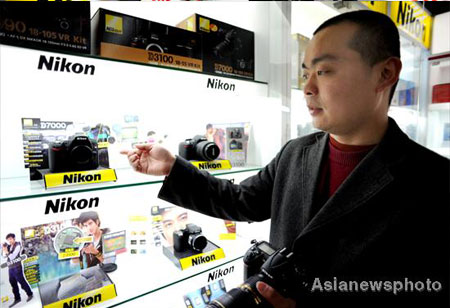 Purchase prices of some Nikon-branded cameras and lens have gone up by 10 percent, according to a Nikon camera vendor in a mall in Yiwu, Zhejiang province, March 30, 2011. [Photo / Asianewsphoto] 
BEIJING - Huang Weijia was hoping that prices of the iPad would keep dropping following the release of the new iPad 2 earlier this month.
But her expectations were not realized because the price for the iPad rebounded to 3,300 yuan from its lowest 2,800 yuan due to a squeeze in the supply chain of some key parts of the iPad following the massive earthquake in Japan on March 11.
"One of the key parts of the iPad, the flash memory chip, was made in Japan. The earthquake disrupted the supply and prices have been rising steadily," said Jiang Shaoming, a salesman of Apple products in Zhongguancun in Beijing, China's Silicon Valley.
He said the 16GB iPad had been running out of stock in many stores.
Other Japan-related products also saw prices fluctuate. The Canon 5D mark II, a high-end camera, was priced at 16,700 yuan before the earthquake. The price tag jumped to 21,000 yuan after the quake and has now fallen back to around 18,000 yuan, according to Sun Xinlei, a salesman of Japan-brand cameras in Hailong Electronics Market at Zhongguancun.
"Sometimes when I quote prices, customers would not believe and they thought I was joking," he said.
In the electronics market, price rises are common. Plant shutdowns in Japan, which were triggered by a 9.0-magnitude earthquake, a tsunami and a nuclear crisis, have disrupted supply chains and pushed up prices in China, which is largely dependent upon Japan for key electronic components and automobile parts.
Japan's hard-hit northeast coastal regions serve as the manufacturing base of everything from chips, semiconductors and auto components.
According to information from the Japan External Trade Organization, Iwate prefecture, which was close to the quake's epicenter, is home to many popular semi-conductor manufacturers such as Toshiba, Fujitsu and Motorola.
"Japan is at the upstream of electronics manufacturing, especially when it comes to high-tech key components. China only serves as a processing and trading market, which is why when it is compared to other countries, China is more reliant on Japan," said Zhao Jinhua, deputy head of the Industry Research Department of the Development Center of the State Council.
He said that the knock-on effect, which might deal a blow to China's exports for the year, should not be underestimated.
The market is already beginning to feel the bite.
Mr He, a distributor of Japanese cameras at Hailong Electronics Market, told Xinhua that although they had sufficient stock right now, their inventories would run out in mid-April due to the shortage of raw materials and disrupted logistics.
To guard against the possible shortfalls, some retailers have hoarded products for better profits. Hu Dongping, a Canon agent at Hailong Electronics Market, said that they have access to fewer products in spite of the manufacturer's message that capacities are sufficient.
"Because the supply is running low, we have hoarded some products for the right time," he said.
He expected price fluctuations to continue for another six months.
Among the hardest-hit sectors is the auto industry. After the quake, joint venture Dongfeng Nissan announced that it would reduce production and that its factory in central China's Hubei province also slowed down operations. Also, officials at Honda Motor's Japan factory said last week that its production halt would continue through Sunday.
IHS Automotive Insight predicts that one-third of global automotive output would be cut due to the ruptured supply chain. Currently, the global auto output has shrunk by 13 percent to about 320,000 units.
China would be severely affected by the reduction. According to customs statistics, China imported $10.9 billion worth of auto parts from Japan in 2010, which accounted for over one-third of the country's total imports of auto parts.
Despite the negative impact of the earthquake, analysts expect the global supply chain to adjust to the effects of the earthquake in Japan.
A report from Ccidnet, an IT platform in China, said that the supply chain squeeze would prompt some enterprises to consider replacement plans. For example, in the IT sector, companies in South Korea and Taiwan would be given more opportunities. Affected companies in Japan could set up factories abroad to explore new opportunities overseas.
Zhou Yi, an analyst with Ccidnet, said that the earthquake would press more Japanese enterprises to expand in the global market and encourage the transfer of technology to emerging economies to lessen risks.
"The most suitable target for technology transfer would be China. Though the replacement would not happen overnight, there will be a gradual shift in the two countries' position in the electronics industry," he said.