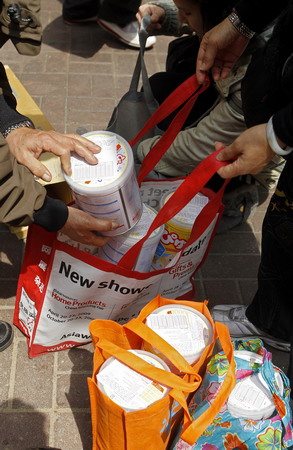 People pack Japanese milk powder containers into shopping bags in Hong Kong two days after the earthquake in Japan. The threat of nuclear radiation leaks from a damaged plant have stoked Chinese concerns about food supplies from Japan. [Photo / Bloomberg]
BEIJING - At least 20 percent of domestic companies will be kicked out of the dairy market at the end of this month following the latest inspection by the central government of China's fresh milk and infant formula producers, official sources revealed.
To help Chinese companies win back a bigger share of the domestic market, the General Administration of Quality Supervision, Inspection and Quarantine (AQSIQ) ordered its local branches to re-inspect dairy enterprises that had already obtained production licenses. The deadline to do so is March 31.
According to data released in late February by four provinces and an autonmous region that had completed the re-inspection - Fujian, Guangdong, Shaanxi, Sichuan and Ningxia - all but Sichuan saw 30 percent of its dairy companies fail. Those companies will have their licenses revoked by the government.
In Sichuan, less than 20 percent of dairy enterprises failed.
Mu Jingjun, secretary-general of the China Dairy Industry Association, said it is now time to clarify the situation and air the facts.
"Consumers have been confused by irresponsible statements and reporting. There are problems with ongoing speculation that harms the whole industry and the national interest," Mu was quoted by China Radio International as saying.
The Dairy Association of China under the Ministry of Agriculture forecast that more than 20 percent of the country's dairy companies, accounting for about 10 percent of the market, will have their licenses revoked when the re-inspection finishes this month.
The obligation for every company engaged in dairy production in China to re-apply for licenses was imposed in November by AQSIQ, the Ministry of Industry and Information Technology, and the National Development and Reform Commission.
"Local quality supervision departments, especially those in major dairy producing areas, should speed up the inspection. Dairy producers who failed to pass the quality inspections will be forced to shut down," Li Yuanping, an AQSIQ spokesman, told China Radio International recently.
According to the order, dairy companies must have equipment that can test for 64 additives, including melamine. The equipment will cost the companies 3 million yuan ($456,000) to 4 million yuan each.
"Only big companies with annual revenues exceeding 80 million yuan and more than 20 tons of daily output can afford to upgrade their equipment," said Jiang Xin, an analyst from China Jianyin Investment Securities.
The policy will streamline the production of normal temperature fresh milk but not affect production of powdered milk and pasteurized milk to any great extent. These latter products already have higher standards of quality control that include sourcing the milk to a particular cow and testing equipment, she added.
Related readings:


 China says its milk products safe


 Imported dairy dominates China's market


 Gov't efforts help restore confidence in Chinese dairy products


 Food safety 'a top priority'
It will also have a greater influence on small companies because the big ones already have mature testing methods. Inner Mongolia Yili Industrial Group Co Ltd, one of China's biggest dairy products manufacturers, and Nestle China, which has three production centers in Shandong province, said they do not need to invest more in testing machines. The world's largest dairy processing company, New Zealand Fonterra Co-operative Group Ltd, said because it only has cow farms in China, not factories, it does not need to apply for the new manufacturing license.
China has more than 800 dairy companies at present. About one third of them had finished the application process by Feb 24, according to AQSIQ. The application deadline was postponed to the end of March, instead of March 1, as the original order in last November required.
Jiang said big companies such as Yili and its major competitor, Inner Mongolia Mengniu Dairy (Group) Co Ltd, have advantages in terms of sales networks that will enable them to take over the 10 percent market share held by small companies by the end of this month.
"The new license application is definitely good news for China's dairy industry, which has witnessed quality scandals in recent years," Jiang said. "It's a good time to rebuild a healthy image."
China's dairy industry is still in its infancy in comparison with Europe. Since 1997, the industry has been increasing annually at a rate of 25 percent. Its rapid development saw a handful of small businesses bring discredit to the industry. Thanks to the re-inspection regime, these companies will be eliminated, industry experts said.