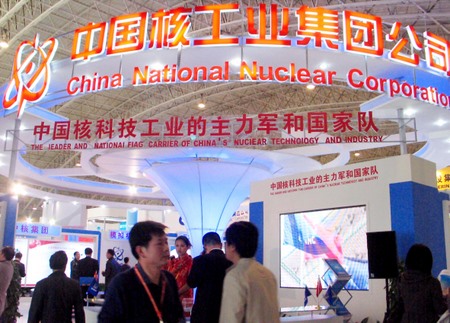 The logo of China National Nuclear Corporation at an exhibition in Beijing. The group is searching for more uranium overseas. [Photo / China Daily]
BEIJING - China National Nuclear Corp (CNNC), the country's largest nuclear plant operator, has started trial production at its first overseas uranium mine. The move comes as China increases efforts to secure more of the metal used in nuclear power production, from overseas acquisitions.
The Azelik mine in Niger, 37.2 percent owned by CNNC, will be capable of producing 700 tons of uranium annually when it begins full operations.
The operator said earlier that it would increase annual overseas uranium capacity to 5,000 tons within 10 years to secure supplies.
Apart from Niger, CNNC is also looking for uranium mining resources in Russia, Zimbabwe, Australia, Kazakhstan, Tanzania and Zambia.
China imported 17,136 tons of uranium in 2010, more than three times the total in 2009, according to the General Administration of Customs.
Two reactors will come online in 2011, adding about 120 tons in uranium demand, said Xiao Xinjian, an expert at China's Energy Research Institute. Demand for uranium will continue to rise this year, said Xiao. Nuclear capacity may total 11.7 gigawatts (gW) by the end of 2011, according to the National Energy Administration.
Related readings:


 Uranium shortage likely to end in 10 years: CNNC


 CNNC may make record bond issue for expansion


 China to boost nuclear power capacity


 Nuclear power standards come under scrutiny
China has put on hold new approvals for nuclear power projects in the wake of the crisis at the Fukushima Daiichi power plant in Japan. Even with that brake, the country's nuclear capacity is still likely to reach 40 gW by 2015 as 28 reactors are currently under construction, the largest number in the world, and indicates that demand for uranium will continue to rise.
"We must guarantee our domestic production capacity, which will constitute the major part of our supply," Sun Qin, president of CNNC, said earlier in an interview with the People's Daily Online.
China could be self-sufficient in uranium supplies by 2020 when the country's nuclear capacity is scheduled to reach 40 gW, according to estimates by industry experts. "Domestic reserves and capacity, in addition to international purchases will assure the short-term supply (by 2020)," Sun said.
China Uranium Corp, a unit of CNNC, plans to increase output to between 4,000 and 5,000 tons by 2020, the company said last year.
Chinese nuclear power operators are sticking to the "Three One-Third" formula - one third from domestic supply, one third from overseas acquisitions and another third from direct international purchases - to ensure a stable supply in the long term.
Another leading nuclear power developer, China Guangdong Nuclear Power Holding Corp, made a $1.2 billion bid for Kalahari Minerals Plc earlier this month, which could give the company access to one of the largest uranium deposits in Namibia.