Sany Heavy Industry Co Ltd, China's largest-listed machinery manufacturer, is planning greater overseas expansion.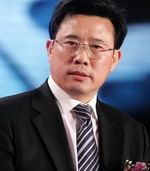 Liang Wengen

, president of
Sany Heavy Industry Co Ltd
"Going abroad is a strategic step for Sany," said Sany President Xiang Wenbo. "By 2015, the company will achieve 300 billion yuan in revenue. And the international share should account for no less than 50 percent of total sales."
Currently, its products have been exported to more than 110 countries and regions. The company earned 1 billion yuan in sales from the overseas markets last year.
In the next two years, Sany plans to build plants in overseas markets in Indonesia, Russia, North African countries and South Africa, according to Xiang.
A research and development and manufacturing center worth $200 million is under construction in Sao Paulo, Brazil. As the company's fourth production base overseas, it will design and develop the most popular products in the regions, including excavators, crawler cranes and truck cranes.
A $60-million industrial park in India is producing 1,000 pumpers, mixer trucks and mixing plants annually.
"We set a goal to achieve 6 billion yuan in sales revenue in India by 2015 and become one of the largest engineering machinery manufacturers in the region," said Wang Zuochun, an employee of the company in India.
In addition, a 40,000-square-meter plant worth $60 million in the United States and a project worth 100 million euros ($138.8 million) in Germany are currently under construction.
"Sany won the trust of overseas customers through its high-quality products and good service," Xiang said. "Our goal is to become a world famous brand in the sector of construction machinery."
He mentioned one of Sany's machines was used to help rescue the Chilean miners who were trapped underground in 2010. As one of the most successful enterprises in China, Sany group is also the world's largest concrete machinery manufacturer and among the top 50 global construction machinery manufacturers. It has a vast product range of construction, excavation, port, and coal mining machinery, as well as wind turbines. Last year, the company earned 48.6 billion yuan in sales and 6 billion yuan in net profit.
By Wang Qian and Ju Chuanjiang (China Daily Shandong Bureau)
Editor: Li Jing