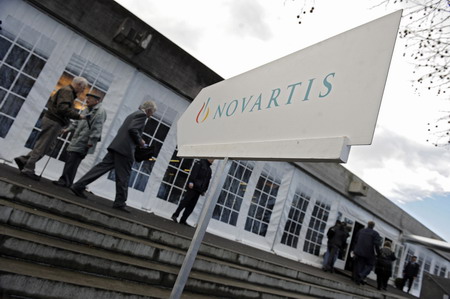 Visitors arrive at the Novartis AG headquarters for the company's annual general shareholders' meeting in Basel, Switzerland. Novartis had about a 15 percent market share in the vaccines sector in China in 2010. [Photo / Bloomberg]
Swiss drugmaker takes first step in entering China's growing human vaccine market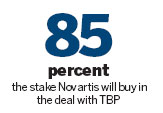 BEIJING - The Swiss pharmaceutical manufacturer Novartis has obtained approval from the Ministry of Commerce to acquire an 85 percent stake in Zhejiang-based Tianyuan Bio-Pharmaceutical Co Ltd (TBP), in a deal indicating a growing interest in the human vaccine sector in China.
Ying Licheng, a senior TBP official, confirmed with China Daily that the deal was approved by the Ministry of Commerce last year but has only recently been disclosed. He said there would not be a significant change to TBP's management.
According to an agreement signed in 2009, the deal will be settled at approximately 850 million yuan ($125 million). However, Ying said the final price would be much higher because of changing market conditions and exchange rates. He did not reveal the exact payment made by Novartis.
Daniel Vasella, former CEO of Novartis, said in 2009 that TBP will serve as a platform for Novartis to introduce advanced technology in China and will assist the company's development in the Chinese vaccine market.
Novartis had a market share of 15 percent in the rabies and flu vaccine sector in China in 2010, according to Yi Min, president of Novartis China.
Analysts said the acquisition could help Novartis expand its distribution channel in the most effective and efficient manner in China.
"Domestic companies have a well-established distribution network around China, so multinational companies will spend less time on establishing their own network," said Guo Fanli, an analyst from the Industry Research Center at China Investment Consulting.
Related readings:


 Regulation of vaccines passes key test


 Novartis readies new $1 billion R&D center


 Drugmaker Novartis announces $5b bond issue


 Persistence pays off for Novartis chief Vasella
"Ownership of government-related contracts are also attractive," he said.
TBP is one of the largest private vaccine manufacturers in China with an annual turnover of $25 million in 2009. It is the second-largest supplier of the H1N1 flu vaccine with a national sales network. The company was responsible for supplying 20 million units of the H1N1 flu vaccine in 2009, according to China Business News.
Multinational companies are keeping a close eye on the vaccine business in China and are rushing to cash in on the booming market.
"The vaccine industry is one with a bright outlook because the government is trying to educate citizens to pay more attention to protecting themselves from diseases," said Guo.
In 2007, Sanofi-Aventis of France announced that it would invest some 70 million euros ($97.67 million) to establish a vaccine production plant in Shenzhen, which is expected to be completed by 2012.
About two years later, GlaxoSmithKline also established a joint venture with Yunnan-based Walvax Biotech to establish a vaccine production base in Jiangsu province. Some 451 million yuan was invested in the joint venture.
Zhang Xin, an analyst from Aijian Securities, said the annual growth rate in the vaccine market in China will be higher than 15 percent, beating the average of the overall pharmaceutical industry. The annual turnover from the vaccine industry in 2009 was about 9 billion yuan.