SHANGHAI - Chinese regulators denied on Tuesday that the country will significantly raise the annual amount of foreign exchange individuals are allowed to convert into yuan, as was previously reported in the local media.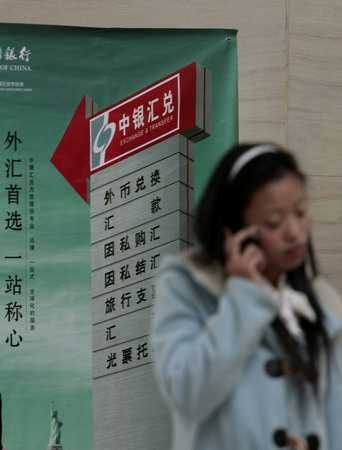 An advertisement for foreign exchange services in Nanjing, Jiangsu province. The State Administration of Foreign Exchange first raised the annual currency exchange quota for individuals in late 2006, when the amount was increased to $50,000 from $20,000. [Photo / China Daily] 
The annual exchange ceiling for Chinese residents will be raised to $200,000 from the current $50,000, the China Times reported, citing anonymous sources familiar with the policies of the State Administration of Foreign Exchange (SAFE).
SAFE said on its website that the report is "totally groundless" and "at the current stage" the administration does not have any plan for such an adjustment.
But Yi Gang, director of the SAFE, reportedly said in February that the country is thinking of allowing individuals to hold more foreign currency.
SAFE raised the annual exchange conversion quota for individuals in late 2006, when the amount was raised to $50,000 from $20,000.
The Chinese currency is not freely convertible under the capital account, including foreign direct investment and securities transactions.
If the quota were raised in the future, it would be a major step toward liberalizing the country's capital account, said Shen Lan, an economist at Standard Chartered Bank (China) Ltd.
Hu Xiaolian, deputy governor of the People's Bank of China, the central bank, said in a news briefing last week that the country will achieve a major breakthrough in full convertibility of the yuan over the next five years, though she did not reveal any detailed timetable.
Hu's comment comes after Xia Bin, an adviser to the central bank, recently said China should aim to achieve full convertibility of the currency by 2020 given the country's rising economic power.
Lu Zhengwei, chief economist of Industrial Bank, said if the move were taken in the future, it would help generate better investment returns on China's $2.85 trillion foreign exchange reserves and ease the country's inflationary pressure.
"China has accumulated such a huge amount of foreign exchange reserves after years of current account surplus that, as a major player, it's almost impossible for it to outperform the market," said Lu.
"Individual investors are more sensitive to the market and more flexible, and allowing them to hold more foreign reserves will provide a better overall return."
Related readings:


 No timetable for yuan's full convertibility


 China expects currency breakthrough within 5 years


 China reiterates yuan stance for five-year plan


 China to increase flexibility of RMB exchange rate
China's foreign exchange reserves rose to a record $2.85 trillion at the end of 2010, an 18.7 percent increase year-on-year. The amount, the largest worldwide, accounts for about 30 percent of the global total, Lu said.
But from 2006 to 2009, the average net returns on China's foreign exchange reserves is minus 1.64 percent, Wang Yongzhong, a researcher with the Chinese Academy of Social Sciences, wrote in an article published in January's Studies of International Finance magazine.
Meanwhile, allowing Chinese individuals to change more yuan into foreign currency will also help offset the effect of capital inflows on domestic inflation, Lu added.
China's Consumer Price Index (CPI), a key gauge of inflation, rose continually in 2010 and in the early part of this year, thanks to ample liquidity in the market in the aftermath of the government's $586 billion stimulus package in late 2008, and increases in foreign capital inflows.
China's CPI hovered at 4.9 percent in February, after hitting 5.1 percent in November, the fastest clip in more than two years. On Monday, Premier Wen Jiabao said that a flood of cheap money caused by quantitative easing policies in "some country" - referring to the United States - was one of the main causes of China's surging consumer prices.
"Loosening control over the yuan's convertibility is an effective way to help drain liquidity and curb inflation," Lu said. "In fact, one of the reasons some other surplus countries, such as Germany and Japan, don't face such strong inflation is that their currencies are convertible."