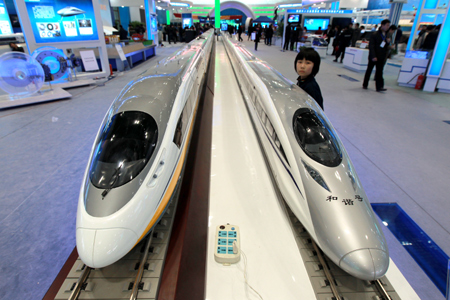 A child looks at models of two high-speed trains in the China National Convention Center in Beijing on Sunday. An exhibition featuring the science and technology achievement China has made from 2006 to 2010 will be held in the center until March 14. [Photo /China Daily]
BEIJING - China's newly-appointed railway minister has said the country will continue to develop its high-speed rail network as planned even after its former minister was ousted.
Sheng Guangzu, who took office on Feb 25 to replace former railway minister Liu Zhijun, made the remarks on Saturday when responding to questions whether China's policy of high-speed rail development will change with Liu's fall from grace.
Liu was placed under investigation for "severe violation of discipline" on Feb 12 by the discipline watchdog of the Communist Party of China (CPC).
Liu's is "an individual case" and will not have a big impact on the railway system's future development and morale, Sheng was quoted by the Beijing News as saying.
He said the change of minister will not change the roadmap of China's high-speed railway development, as the country will continue to develop its fast train network under its national medium-to-long-term program.
The railway system now runs stably and achieved its mission during the past Spring Festival travel peak, he said.
It was the first time 62-year-old Sheng faced the media after taking office at the railway ministry. The former head of the General Administration of Customs was vice-railway minister before being transferred to customs as deputy commissioner in 2000.
Zhang Junbang, director of the Zhengzhou railway bureau and a deputy to the National People's Congress (NPC), told China Daily that the plan for building high-speed railways in his bureau's territory this year has not changed, and a high-speed rail line linking Wuhan, capital of Central China's Hubei province, and Shijiazhuang, capital of North China's Hebei province, will be completed by the end of this year.
Following the removal of Liu and later the ministry's deputy chief engineer Zhang Shuguang - both leaders in China's high-speed railway development - the ministry faced doubts and pressure from many sides.
Some believed the ministry will not be able to pay back the huge loans it borrowed from banks for building the massive high-speed rail network, while others suspected the stunningly fast construction of the high-speed railways might generate potential safety hazards.
As to the solvency of the ministry's affiliated companies, Sheng said on Saturday that the 1.8-trillion-yuan ($274-billion) debt used for building the country's massive high-speed rail network was still "at a controllable level".
"I believe the high-speed rail market will be rosy" after many projects still under construction are put into service, he said.
Related readings:


 China's railway ministry official removed for discipline violation


 Hungary sets sights on China's high-speed rail tech


 Beijing-Shanghai high speed rail starts test run


 China to spend $1.3t on new rail, road infrastructure
As for whether the ministry should build so many high-speed railways in only a few years, Wang Mengshu, a professor at the Research Center of Tunnel and Underground Engineering at Beijing Jiaotong University and a deputy to the NPC, said that forming a network in a relatively short period can generate more profits than laying out the railways one by one.
And the quick speed of construction is not likely to affect quality as the key to safety is the rail track, and China has overcome difficulties to make sure the tracks stay where they are for years so that trains will not derail at high speeds, he said.
Zheng Xinli, former deputy director of the policy research office of the CPC Central Committee and a member of the National Committee of the Chinese People's Political Consultative Conference, said that with the growth of the network and people's income, high-speed railways will gradually attract more passengers and eventually begin to make a profit.
By then, paying back the huge debt will not be a problem, Zheng said.
The country has planned to expand its high-speed rail network to 13,000 km by 2012 and to 16,000 km by 2020.
At the end of 2010, the network was already the world's longest at 8,358 km, of which 5,149 km were put into service in 2010.