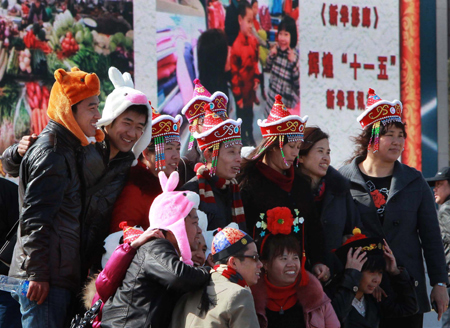 Tourists from Jiangxi province — some wearing ethnic headwear — pose for photographs on Tian'anmen Square on Sunday after visiting an exhibition highlighting achievements of the 11th Five-Year Plan (2006-2010). [Photo / China Daily] 
BEIJING - Ample reserves will ensure stable grain prices, Zhang Ping, who heads the National Development and Reform Commission (NDRC) - the top economic planning agency - said on Sunday.
Some 100 million tons of wheat currently in storage, and stockpiles of other grains, account for 40 percent of the country's annual consumption, Zhang told a news conference.
"Sufficient grain reserves help prevent price fluctuation. We have the confidence and capability to keep prices stable," he said.
Since 2007, the annual grain output has surpassed 500 million tons and increased 2.9 percent year-on-year to 546 million tons in 2010, the seventh consecutive year of increased output.
No effort will be spared to achieve an eighth consecutive year of increased output, Zhang promised.
Since October, most parts of central and eastern regions, the key wheat-producing areas, have suffered severe drought. As a result, doubts surfaced over grain self-sufficiency.
But according to leading agriculturists and meteorologists the drought has had a limited effect on crop production.
"Rainfall from December to February is always very patchy. It is too early to predict grain loss due to the drought," Zheng Guoguang, chief of the China Meteorological Administration, said on Sunday.
"The affected areas for winter wheat are less than one-third of the total, and the average output of winter wheat only accounts for 22 percent of the country's total grain output," said Chen Xiwen, director of the office for the Communist Party of China Central Committee's Leading Group on Rural Work.
Also, snow and rain in late February and early March, as well as irrigation, have helped ease the drought, Chen said.
"With concerted efforts, the impact can be allayed or even eliminated," Chen said.
During the news conference, Zhang spelled out a series of measures to curb rising food prices, including increasing subsidies for major grain-growing areas, better managing food reserves and reducing food transport costs.
The consumer price index (CPI), a major gauge of inflation, reached 4.9 percent in January, slightly lower than the 28-month high of 5.1 percent in November.
China will resolutely crack down on speculative hoarding and remain vigilant over the flow of "hot money", international speculative capital, Zhang said.
People first
Reining in inflation is a key task in the nation's draft 12th Five-Year Plan (2011-2015) to improve people's wellbeing. Public services, covering education, employment, social welfare and healthcare, will be improved, Zhang said.
Related readings:


 Drought impact on grain limited, prices remain stable


 China's banks urged to back grain production


 Senior executive confident of grain supply


 China grain supply balanced, won't rely on imports
Altogether 24 provinces and regions (out of 31 on the Chinese mainland) have set income growth targets to equal or outpace the increase in local GDP in the 2011-2015 period, Xu Xianping, deputy head of the NDRC, said at the news conference.
China plans to coordinate the rise in general income with economic expansion, and the increase in workers' pay with improved labor productivity for the 2011-2015 period, underlining its determination to rebalance economic and social development.
Xu said putting people's wellbeing on top of the national development agenda was in line with the consensus during the drafting of the 12th Five-Year Plan.
Some 70 research institutes and think tanks joined in the study of 41 major problems hindering development.
The general public sent 64,709 suggestions to the NDRC's website, via mobile phones and emails, to help with the plan's drafting, Xu said.