Imagi International Holdings Ltd plans to make three movies including a 3D version with the popular Chinese cartoon characters Pleasant Goat and Big Big Wolf after purchasing Toon Express Group, which owns their trademark and copyright.
The HK$810 million ($104 million) acquisition was announced on Feb 18 by Hong Kong-listed Imagi.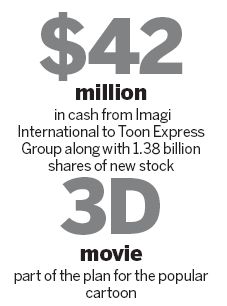 Imagi might also pay up to an additional HK$230 million based on the financial performance of Toon Express in 2011 and 2012, which would bring the deal to more than HK$1 billion.
The acquisition will be paid with HK$330 million in cash and 1.38 billion additional shares issued by Imagi.
The company has invited renowned local entrepreneurs to invest in its new stock, including two of Hong Kong's richest businessmen, Li Ka-shing and Larry Yung Chi-kin.
Imagi began producing animated films in 2002 and had a big hit with its first feature Teenage Mutant Ninja Turtles released in 2007. It became the top-grossing animated film in North America.
But in 2009, the company lost about 600 million yuan ($91 million) on the animated film AstroBoy. Some 300 employees at its studios lost their jobs.
Acquisition of the Toon Express Group trademarks and character copyrights is the first decisive move Imagi has taken since the loss, insiders say.
"We choose to buy the copyright of Pleasant Goat because of its influence as a national brand, like Mickey Mouse in the United States and the Japan's Hello Kitty," said Leung Pak To, director and chairman of the company.
Imagi also expects the deal to help the company tap the rapidly growing animation business on the Chinese mainland, he added.
Related readings:


 Comedy films popular during Spring Festival season


 Family in focus in third installment of goat and wolf saga


 Pleasant Goat and Big Big Wolf going places


 Disney boost for Chinese cartoon company
He noted that Imagi plans to promote its own original animations and cartoon characters through Toon Express distribution channels.
"All in all, we are very bullish on the company's future development," he said.
Industrial insiders said the possible HK$1 billion price tag was not unreasonable - even a bit low.
"Pleasant Goat is a leading brand in the Chinese animation industry that will hardly be surpassed in three to five years," said Liu Hui, an executive at animation company Shanghai Tangtang Cultural Ltd.
"Its serial productions can bring profits of more than 20 million yuan to the company annually," he added.