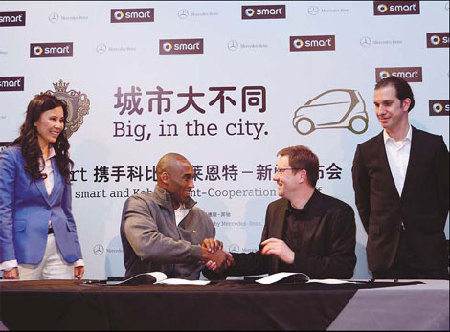 From Left: Mao Jingbo, vice-president of marketing at Mercedes-Benz (China) Ltd, NBA superstar Kobe Bryant, Klaus Maier, president and CEO of Mercedes-Benz (China) Ltd, and Stefan Herbert, head of smart operations at Mercedes-Benz (China) Ltd, at the signing ceremony in Los Angeles last week. [Photo / provided to China Daily] 
NBA superstar Kobe Bryant invited as brand ambassador to China
Mercedes-Benz (China) Ltd has just signed on NBA superstar Kobe Bryant as brand ambassador for smart in China.
This is a part of the German automaker's new brand campaign "Big, in the city" for smart, its urban-friendly car launched in China in 2009. As part of this new partnership, Bryant will be featured in a smart TV commercial and is expected to visit China in 2011 for a series of exciting events. This is also the first time that Bryant is appearing for a market-specific campaign.
At the signing ceremony held in Los Angeles last week, Klaus Maier, president and CEO of Mercedes-Benz (China) Ltd, said that both Kobe and smart are legendary in modern urban life. The partnership with Bryant will strengthen the position of the smart car as the most popular lifestyle and city car in China, and Kobe's passion, agility, intelligence and creativity will blend beautifully with smart's core values.
As the urban lifestyle trendsetter, smart was designed with Mercedes-Benz's spirit and innovation in mind, abiding by its brand mantra - "The best or nothing", said Maier.
This pursuit for excellence is reflected in Bryant's sportsmanship on the basketball court. A five-time NBA finals champion, Bryant is one of the most valuable players who has been selected into the NBA All-Star Games for 11 consecutive years since 2000 and is also the most named NBA Most Valuable Player to date.
Related readings:


 CEO Maier leads Mercedes into new stage


 Sales of imported luxury cars storming ahead


 S-Class: Mercedes celebrates 'timeless masterpiece'


 German luxury car sales boom in China
Mao Jingbo, vice-president of marketing at Mercedes-Benz (China) Ltd, expressed her confidence and excitement about the new brand campaign and partnership with Bryant.
She said that this collaboration is a breakthrough in smart's brand positioning - "the art of being smart". "We would like to emphasize on the concept of thinking big and bringing a smart urban mobility option to the city. Hence, in our new brand campaign for 2011 - 'Big, in the city' - Kobe and smart together will make big impact to our urban life."
"An all-new smart TV commercial is only the beginning of our new partnership with Kobe. In next three years, we will also launch a series of big activities and test drives to bring to smart fans in China an entirely new experience that characterizes the brand's artistry and unique personality," said Mao.
A Hollywood team will shoot the commercial designed especially for the China market, with renowned director Dave Meyers at the helm.
Scheduled for release in April, its storyline will involve Bryant and smart together accomplishing an exciting mission in China.
The fascinating story will reflect the soul of the "Big, in the city" brand campaign - the excitement in driving freely, the wisdom of transforming convolution to simplicity, the joy in safe driving and the big environmental benefits in a small car.
The commercial will also feature many Chinese elements, such as the works of the famed artist Fang Lijun and many familiar Chinese faces.
Speaking about his involvement with the smart brand campaign, the NBA star said, "I am sincerely looking forward to this collaboration with Mercedes-Benz and smart. China is like a home away from home for me, and all of the cities I have visited so far have fascinated me. I hope the 2011 China visit will take place very soon, and I can't wait to drive my smart on Chinese streets to understand and experience the local culture and customs."