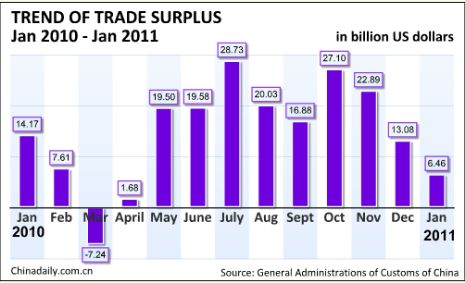 BEIJING - China's foreign trade surged 44 percent year-on-year in January, boosted by busy shipments ahead of the nation's Spring Festival holiday, while its trade surplus shrank by half, the nation's Customs agency said Monday.
Exports rose by 37.7 percent year-on- year to $150.73 billion while imports increased by 51 percent to $144.28 billion, the General Administration of Customs said on its website.
Foreign trade totaled $295.01 billion. The trade surplus shrank 53.5 percent year-on- year to $6.46 billion in January, much less than the market expected.
The Chinese New Year fell on Feb 3 this year, while last year it fell on Feb 14. Exports and imports were pushed up in January as a result.
Exporters and importers frontloaded their trading activities in January this year, said Lu Ting, an economist with the Bank of America-Merrill Lynch.
Because of this both export and import growth would probably slump in February, he said.
Even with the seasonal factors and lower comparison base taken into account, the January trade figure was stronger than expected, said Liu Ligang, an economist for the Greater China area with the ANZ Bank.
According to Liu's calculations, January exports, in seasonally adjusted terms, increased by 0.1 percent from December, while imports rose by 10.8 percent.
It underscored robust demand from developed economies, which was reflected in their economic data. Also, China's demand for raw materials remained strong, Liu said.
The European Union remained China's largest trade partner in 2010, with EU-China trade up 30.5 percent year-on-year to $45.97 billion.
Trade with the United States rose 39.2 percent year-on-year to $36.87 billion, while China-Japan trade jumped 42 percent to $27.84 billion.
Trade between China and the Association of Southeast Asian Nations (ASEAN) surged 34.5 percent to $28.89 billion.
The deficit with ASEAN nations multiplied by a factor of 4.4 to $2.17 billion. China's trade with emerging economies climbed significantly: trade with India was up 44.2 percent to $6.66 billion; and with Brazil up 74.8 percent to $5.99 billion.
Although the trade surplus contracted sharply, said Wang Tao, an economist with UBS Securities, the figure at the start of the year was routinely smaller than other times of the year because of seasonal factors.
"January's falling trade surplus is only temporary, and does not mean China's foreign trade is moving towards a more balanced level," she said.
Qu Hongbin, co-head of Asian Economic Research of HSBC, said import prices surged 10.1 percent year-on-year in December, a trend that was expected to continue because of rising global commodities prices, which added further pressure to broader domestic price growth, especially producer prices.
Related readings:


 China 2011 export growth to slow to 10%


 UK eager to expand export to China

 China 'unlikely' to cut export rebates


 China still mulling rare earth export quotas for 2011
"At home, the recent development of drought in northern China will likely add fuel to the continued growth of food prices and inflationary expectations," he said.
According to Customs figures, China imported 5.14 million tons of soybeans in January. Import prices jumped by 20.4 percent to $558.1 per ton. China's statistics authority is scheduled to release the January inflation data on Tuesday. Many analysts expect the Consumer Price Index (CPI) to exceed 5 percent.