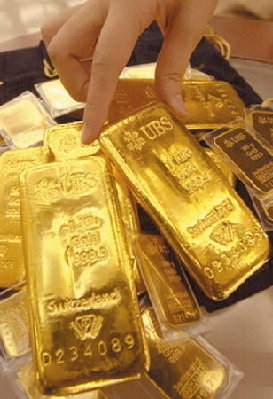 A central bank adviser said China should increase its gold and silver reserves. [Photo/China Daily]
SEOUL - China should increase its gold and silver reserves, the Economic Information Daily reported on Monday, citing an interview with China's central bank adviser Xia Bin.
Increasing gold reserves at the "appropriate time" is in line with the strategy of internationalizing the yuan, the report cited Xia as saying. "Related departments" should employ a "buy in the dip" strategy over a very long period of time, Xia said.
Bullion soared nearly 30 percent in 2010, advancing for the 10th year, as the dollar dropped and investors sought a store of value amid currency debasement. China is allowing greater use of its currency for cross-border transactions, seeking to reduce reliance on the dollar.
The report is "a positive factor for gold prices in the mid-and-long term," Hwang II Doo, a senior trader at Seoul-based Korea Exchange Bank Futures Co, said on Monday. Still "it didn't have immediate impact on prices as gold's gain has more to do with the unrest in Egypt at the moment."
Total gold consumption in China, the second-largest buyer, may gain 15 percent in the first-half, fueled by growing demand for alternative investments and a hedge against inflation, the China Gold Association said last week.
Imports of gold by China jumped almost five-fold in the first 10 months of last year from the entire amount shipped in 2009, the Shanghai Gold Exchange has said. Shipments were 209 metric tons compared with 45 tons for all of 2009, said exchange Chairman Shen Xiangrong.
Related readings:


 Chinese govt mulls higher gold reserves


  China won't dump US Treasuries or pile into gold

 China's gold reserve ranks fifth in the world

 Glittering gold scales new peak 
The country increased gold reserves by 454 tons to 1,054 tons since 2003, the State Administration of Foreign Exchange said in April 2009. The metal only accounts for 1.6 percent of the nation's reserves held by the People's Bank of China, according to the World Gold Council. China doesn't regularly publish gold-trade figures and rarely comments on its reserves.
Bullion for immediate delivery gained as much as 0.7 percent to $1,346.27 an ounce, and was at $1,339.25 at 12:53 pm in Seoul. The price rose 2.5 percent on Jan 28, the biggest intra-day increase since Nov 4 as escalating tensions in Egypt fanned concern that unrest may spread to other parts of the Middle East, increasing demand for an investment haven.
Bloomberg News