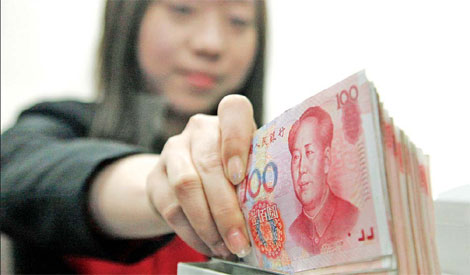 An HSBC employee counts 100 yuan banknotes at the bank's branch in Shanghai. HSBC Group Chief Economist Stephen King said that investors' waning confidence in the US dollar, triggered by the Federal Reserve's quantitative easing, is helping to fuel the yuan's internationalization. [Photo / Bloomberg]
HSBC: One-third of cross-border commerce may be in RMB by 2016
SHANGHAI - One-third of China's cross-border trade may be settled in yuan by 2016, as the Chinese government pushes for the internationalization of the currency, said a senior economist with HSBC on Wednesday.
"China's currency has been under-represented in global trade and capital markets, when compared to its trade and economic scale. But triggered by various government measures, yuan-settled trade has been growing fast. We believe that the volume will be reached by 2016," said Qu Hongbin, HSBC's chief economist for China.
Transaction volumes increased sharply after the People's Bank of China first launched a pilot scheme for yuan trade settlements in June 2009 and expanded it a year later.
The Bank of China's US branches began offering yuan deposits, exchange, remittance and trade finance services to business and personal customers last month, according to a statement posted on the bank's website.
Personal customers in the New York area can change as much as $4,000 a day into yuan, up to a maximum of $20,000 a year, according to the statement. Meanwhile, corporate services in yuan are available in New York and Los Angeles, the bank said.
China is allowing greater use of its currency for cross-border transactions, seeking to reduce dependence on the US dollar after Premier Wen Jiabao said in March that he was "worried" about holdings of dollar-denominated assets.
Related readings:


 Bank of China allows US customers to trade yuan


 Rising domestic demand helps cut trade surplus


 China 2010 foreign trade up 34.7%


 Increasing high-tech trade

According to data from HSBC, the average monthly volume of yuan-settled trade surged from 0.6 billion yuan ($90 million) in 2009 to 68 billion yuan in the period between June and November 2010.
China Construction Bank Corp, which helped organize the biggest number of bond sales in China last year, has forecast an increase from the current $19 billion a year of yuan-denominated trade transactions. Trade deals settled in yuan may rise to an annual $3 trillion by 2015, the bank said on Nov 23.
The yuan's growing application in trade settlement is the first step in the currency's internationalization, Qu said, adding that as the yuan's use in trade increases, the country will make the currency convertible in capital accounts and increase its use in investments.
Last week, the city of Wenzhou launched a pilot program allowing its residents to invest up to $200 million a year overseas, though investment in a single project can't exceed $3 million.
HSBC Group Chief Economist Stephen King said that investors' waning confidence in the US dollar, triggered by the Federal Reserve's quantitative easing, is also fueling the yuan's internationalization. He predicted the yuan will replace the US dollar as the world's reserve currency in 20 years.
"As quantitative easing in the US drags down the dollar's value and hurts investor confidence in the currency's future, the internationalization of the yuan is set to take off," he said.
Qu predicted China will make its capital account fully convertible by 2020, the same time that Shanghai is to be built into an international financial hub according to the government schedule
"There is no way for Shanghai to become an international financial hub if the yuan is not fully convertible. In fact, we expect the capital account to be opened sooner, based on current progress," Qu said.
Bloomberg contributed to this story.