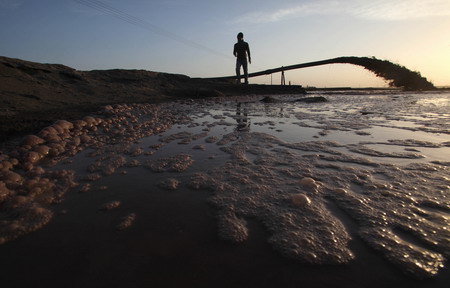 Liquid waste discharge caused by rare-earths processing forms a "rare earths lake" in the suburbs of Baotou, Inner Mongolia autonomous region. Oversupplies of rare earths have depleted China's own resources and seriously damaged the environment. [Photo / China Daily]
BEIJING - China is considering establishing an industry association and a government unit for the rare earths industry to gain more control over the precious metals, senior officials said Tuesday.
The rare earths industry association is likely to be launched in May and will assist companies in exports and international cooperation, Wang Caifeng, a former official of the Ministry of Industry and Information Technology (MIIT), who is setting up the group, said at a forum.
"We will be on the frontlines leading price talks with foreign buyers. Our role will be similar to that of the China Iron and Steel Association (CISA)," she said.
Chinese industry associations have served as agents through which companies negotiate with foreign suppliers and buyers, such as CISA representing Chinese steelmakers in talks with global miners on iron ore prices.
China also plans to establish a government unit in 2011 to specifically manage the rare earth sector, said an industry insider who requested anonymity. There are six ministry-level bodies overseeing the sector, including MIIT, the National Development and Reform Commission, and the Ministry of Commerce.
"The MIIT is leading the work of setting up the new unit, but it hasn't been decided whether it will be vice-ministerial or bureau level," he said. "The new unit will formulate the industry plan and guide the industry."
China has released guidelines to reform the industry by cracking down on illegal mining practices, encouraging more consolidation and reducing exports as oversupplies have depleted its own resources and seriously damaged the environment.
Related readings:


 China sets 1st round of 2011 rare earth export quotas


 CCCMC calls on diversifying rare earth supplies


 China rare earths exports double in November


Export tax to be raised on rare earth
Rare earths, composed of 17 elements, are used in a number of high-tech processes ranging from wind turbines and hybrid cars to missiles. China has about 30 percent of global rare earths reserves, but produces 97 percent of the world's total.
China on Tuesday issued the first round of 2011 export quotas for rare earths, 14,446 tons, 11 percent less than the first round last year, according to a statement on the Ministry of Commerce website.
On claims made by United States on China's alleged restrictions on exports of rare earths, experts said China's policy has never violated the rules and regulations under the framework of the World Trade Organization.
On Tuesday, in the annual report on China's compliance with WTO rules, the Office of the US Trade Representative filed complaints to the WTO against China's trade policy for the alleged "excessive government intervention". The rare earths export policy was highlighted in the report.
"China's moves are based on market demand and economic development. Based on this, no one should blame China," Wang said.
Zhang Anwen, deputy secretary-general of the Chinese Society of Rare Earths, said: "China's measures are for the sake of protecting the environment for the sustainable development for the industry."
Since 2006, the country has imposed temporary taxes on rare earths exports and set limits on quotas. In 2010, China reduced export quotas to 60 percent, causing alarm among importing countries such as Japan.
The Ministry of Finance said on its website last week that China will raise the export taxes for some rare earth minerals to 25 percent in 2011.
The country is speeding up the pace of mergers and acquisitions in the rare earths sector and is encouraging consolidation among State-owned enterprises. China plans to cut the number of rare earths companies from the current 90 to 20 by 2015.