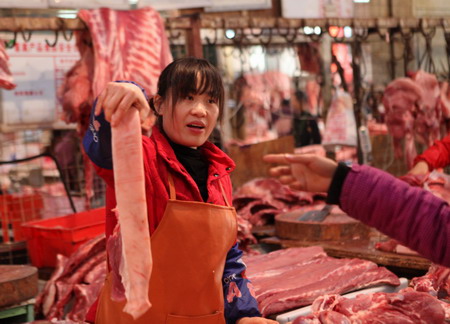 According to analysts, rising inflation will continue to erode gains made in income growth. [Photo / China Daily] 
BEIJING - Average salaries in major business sectors of China will continue to rise next year but the optimism is dampened by rising inflation, said a report released on Monday.
Average salaries are expected to rise 8.4 percent in 2011, up 0.5 percentage points from this year, said the report released by online human resource service provider 51job Inc.
The report was based on a survey of 7,372 companies across China and was conducted from October through December. About 89 percent of the companies surveyed said they will give a raise to their employees next year.
"Although salaries are expected to increase, pay raises may fail to keep up with the country's price hikes," said Jennifer Feng, public relations director and chief human resources expert of 51job.
Related readings:


 Chinese fight against price hikes


 Rising labor costs have only just begun


 Salary increase guidelines seek to narrow income gap


 How much monthly salary can earn a comfortable life?
China's consumer price index, a major gauge of inflation, rose to a 28-month high of 5.1 percent in November, figures from the National Bureau of Statistics showed. Goldman Sachs predicted that the nation's inflation rate will grow 4.3 percent in 2011.
"Actual pay will rise 2 to 3 percent in view of the current and potential price inflation next year, far less than the forecast of 8.4 percent," said Feng.
Liu Jianhui, an analyst with the State Council's Development and Research Center, also said pay increases cannot make up for commodity price hikes. "In my view, the rate of China's average salary rise should surpass, or at least equal the country's GDP growth rate," said Liu.
In 2010, some 87.3 percent of companies have given a raise to their employees, and the pay rise was close to 7.9 percent, according to the report. The industries showing the highest pay rises were energy at 8.9 percent, finance at 8.7 percent, and biopharmaceutical at 8.4 percent.