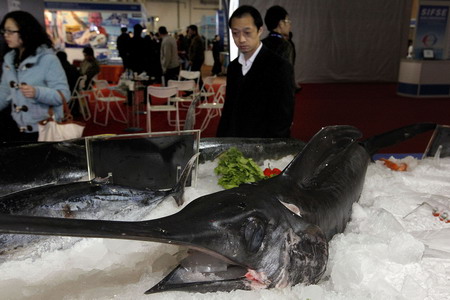 A swordfish on display at the Fifth Shanghai International Fisheries and Seafood Expo. In 2009, Shanghai Fisheries General Corp hauled 141,500 tons of seafood. [Photo / China Daily]
SHANGHAI - The largest Chinese deepwater fishing company has expanded its reach in the Pacific Ocean, and aims to increase its supply to the home market by 50 percent.
Shanghai Fisheries General Corp (SFGC), the top player in China by fishing volume, signed a strategic cooperation agreement with Golden Ocean Fish Ltd of Fiji, and the national fishing company of Kiribati to acquire more international fishery resources and diversify in the domestic seafood market.
The three parties will establish a joint venture to explore the resources of Kiribati, an island nation located in the central tropical Pacific Ocean.
They will apply for a fishing license around Kiribati's waters and sell the processed products directly to China, Japan, the United States and European countries.
"Through the partnership, our fish supply to the domestic market will increase 50 percent in five years," said SFGC Chairman Tang Qiqing. According to Tang, less than 10 percent of the company's 150,000 tons of fish products were consumed in the domestic market last year.
"The tastes of the Chinese consumer have changing during the past few years," said Tang Wenhua, vice-president of SFGC, who has been studying domestic preferences in fish and seafood.
"For example, Shanghai's older generation likes eating freshwater fish, but younger people have started to embrace seafood, such as sashimi," he added.
Related readings:


 Seafood sector rides on growing Chinese market


 Chinese seafood traders fish for business at Boston show


 Stronger fleet for fishery administration


 Cold freezes sea-farmers' income
Tang said the agreement will provide more fresh and affordable seafood for Chinese dining tables.
"In response to the growing spending power of Chinese consumers, SFGC will bring more premium deep-sea products like octopus and tuna to the domestic market with lower fishery and logistics costs thanks to this deal," he said.
SFGC and Jinjiang International Holdings Co Ltd also signed a separate deal to build a complete industrial chain from fishing to retail.
"SFGC's advantage in marine fishing and manufacturing, along with Jinjiang International's expertise in seafood cold-chain logistics, tuna processing and sales, will help more Chinese people enjoy fresh seafood," said Tang.
As a leader in Chinese ocean fishery supplies, SFGC started to explore overseas resources as early as the 1980s, when local fishing companies faced hardship because of low productivity. With the encouragement of the central government, SFGC became the first company to make the transition to ocean fishing in 1985.
In the past 25 years, SFGC has established 18 joint ventures or offices in more than 10 countries and regions, with more than 1,000 employees working overseas.
In 2009, the Shanghai-listed company hauled 141,500 tons of seafood, realizing 1.68 billion yuan ($251.95 million) in revenue. The company's five super-trawlers account for about 75 percent of the total output from China's 13 strong super-trawler fleet.
Both agreements were signed during the four-day Fifth Shanghai International Fisheries and Seafood Expo, which ended on Monday.
Around 200 companies from more than 10 countries and regions attended the event. Up to 1,000 items were displayed, including a rare bluefin tuna, weighing 145 kg and caught by SFGC.