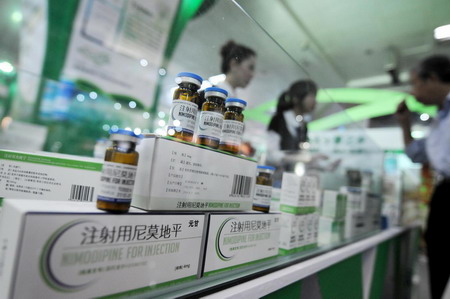 Medicines displayed at the first session of the Cross-Straits Pharmaceutical Exposition held in October in Fuzhou. China is taking measures to reduce drug prices. [Photo / China Daily]
BEIJING - The Chinese government's regulation that reduces the price of some self-developed medicines will not seriously affect international pharmaceutical companies, analysts say. Meanwhile foreign drugmakers are appealing for pricing policies that encourage research and development (R&D) instead of simply reducing prices.
On Monday, the day after the policy took effect, the price of related products in Guokangtang Pharmacy in northern Beijing had not yet fallen. "We are waiting for an announcement from the administration," said a shop assistant.
"It will take time for the policy to reach the retail level, given our stocks," said a supply manager at Anhua Hospital, a Beijing community clinic, under condition of anonymity.
But in the capital's major hospitals prices dropped.
The National Development and Reform Commission (NDRC), the country's top think tank, issued a statement at the end of last month announcing a cap on the retail prices of 174 self-developed medicines which started on Sunday. Of that total, 107 are produced by 40 foreign drugmakers, including Pfizer, Merck & Co, Eli Lilly, Novartis and Bayer.
Related readings:

 Prognosis for medicine costs looking good


 China to slash drug prices by 19%


 China cracks down on illegal online drug selling


 Pharmaceutical lobby calls for new pricing mechanism
Prices of the medicines, from antibiotics to cardiovascular products, will drop 19 percent on average. The retail price of Bristol-Myers Squibb's Captopril, a high-blood-pressure treatment, has been slashed by 35 percent. Ceftriaxone, an injected antibiotic by Roche, has been cut by 30 percent.
The price reductions will have little effect on foreign drugmakers, given the 19 percent average rate, said Guo Fanli, a healthcare analyst with China Investment Consulting. A "self-developed" medicine is one developed by a pharmaceutical company on which the patent has expired. In China, these medicines are owned mainly by international pharmaceutical giants, and their prices were set by the producers.
"The maximum retail price policy, on the other hand, may facilitate these self-developed medicines being in the nation's essential medicine system and help foreign pharmaceutical enterprises enter China's grassroots market, including second- and third-tier cities as well as rural regions," said Guo.
"The measure is to stabilize the cost of medicine," said the NDRC, which estimated that the policy will help the public save 2 billion yuan annually.
Though analysts say the price-cutting will hardly affect international drugmakers, an industry lobby said: "These medicines (involved in price reduction) are companies' branding products, thus the price-cutting will greatly affect the sales of these enterprises."
The R&D-based Pharmaceutical Association Committee (RDPAC) under the China Association of Enterprises with Foreign Investment is a non-profit, non-governmental organization. It now has 38 member enterprises, all large R&D-based multinational companies.
It said that the manufacturers' price of China's generic drugs is about 22 percent to 30 percent of the international level, hence capping the price of self-developed medicine based on that of a generic drug in China will frustrate pharmaceutical companies' enthusiasm for R&D and quality control. It will ultimately hinder healthy development of the industry.
Though RDPAC said it supports the NDRC's price reform, it emphasized that price-setting should be achieved through a combination of government administration and market adjustment, and should be R&D-oriented.
"We will stick to our principle of providing safe and reliable products to our customers. Meanwhile, we believe that pairing high quality with high price is reasonable, and we guarantee safety and quality," Stella Ling, communications director of Bristol-Myers Squibb China, told China Daily.