Editor's note: China's central bank raised the reserve requirement ratio by 0.5 percentage points on Dec 10, rather than hiking the benchmark interest rate, to curb inflation. Analysts attributed the central bank's cautious policy to two main factors: the uncertainty lingering on China's economy next year and the worry about more hot money inflow. It seems hot money will continue to be a "hot issue" in China.

Yuan appreciation
China to further reform RMB exchange rate regime
The People's Bank of China, China's central bank, has decided to proceed further with the reform of the Renminbi exchange rate regime to enhance the RMB exchange rate flexibility, a spokesperson of the central bank said on June 19. [Full Story]
China to continue RMB exchange rate reform
Chinese President Hu Jintao reiterated in May that China will continue to steadily advance the reform of the formation mechanism of the RMB exchange rate under the principle of independent decision-making, controllability and gradual progress. [Full Story]
 Special coverage: China Advances Yuan Rate Reform
Rates hike expectations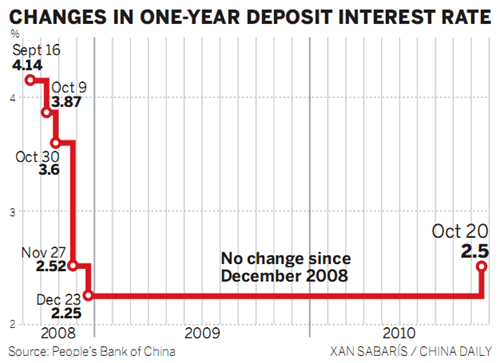 Inflation expectation presses for rate hike
The possibility of an interest rates hike by China's central bank is imminent as inflationary pressure prolongs and a "prudent" monetary policy is in place, the China Securities Journal reported on Dec 10. [Full Story]
Interest rate hike of 25 basis points announced
The central bank on Oct 19 raised interest rates for the first time in nearly three years in an attempt to combat inflation and soak up excessive market liquidity.
The People's Bank of China said it was raising benchmark rates by 25 basis points, taking one-year deposit rates to 2.5 percent and one-year lending rates to 5.56 percent, effective on Oct 20. [Full Story]
Analysts see rate hikes
Ma Jun, chief economist of Deutsche Bank Greater China, Ma raised his forecast for rate hikes to 75 basis points in the coming 12 months from an earlier projection of 50 points, and expected the yuan to appreciate 5 percent against the US dollar in the coming 12 months, one point higher than the earlier projection of 4 percent.  [Full story]
Zhou Wangjun, senior official in charge of price at the National Development and Reform Commission, said interest rate hikes cannot be ruled out",  "We have entered an interest rate hike cycle." [Full Story]
"Speculation on interest gain from the renminbi will lure more hot money from US investors, who are keen to divert their money from the low-rate US dollar," said Feng Ke, director of Peking University's financial properties research center. [Full Story]
 US monetary policy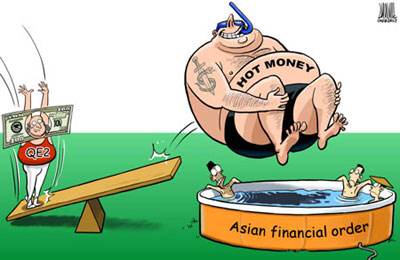 US new monetary policy poses challenges to China
The US Federal Reserve announced on Nov 3 a second round of monetary stimulus, dubbed QE2, in its latest move to jump start the sluggish recovery of the US economy. It will buy long-term Treasurys worth $600 billion in the coming eight months, and reinvest $250 billion to $300 billion more in Treasuries with the proceeds of its earlier investments, the US central bank said.
[Full Story]

Special coverage:
Fed's QE2 sparks concerns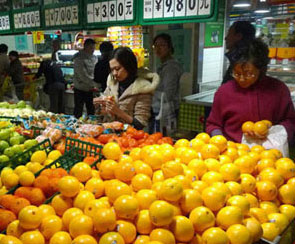 FDI growth & inflation rise
Foreign direct investment (FDI) into China rose for the 15th consecutive month in October, evidence that China remains a favored investment destination for foreign businesses.
Inbound FDI increased 7.86 percent year-on-year in October to $7.663 billion. The October figure means inbound FDI for the first ten months of the year totaled $82.003 billion, a year-on-year increase of 15.71 percent. [Full Story]
China's consumer price index (CPI), a major gauge of inflation, rose to a 28-month high of 5.1 percent in November, the National Bureau of Statistics (NBS) said on Dec 11. [Full Story]

 Special coverage: China Economy by Numbers
Hot money waiting to enter Chinese mainland from HK
A huge amount of international speculative capital, or "hot money", is waiting to enter the Chinese mainland from Hong Kong, Shanghai Securities News reported on Nov 26.
Wen Tianna with the Hong Kong Security Association said that unofficial statistics showed that a total of HK$650 billion worth of hot money is awaiting opportunities to enter the Chinese mainland market.
Wen said hot money inflows have been increasing since August, at a speed of a nearly eight-year high. [Full Story]

 

Hot money withdrawn from the agriculture futures market in November.

Believed to have much better yields than ever before in September.

Once beat gold as the best asset.

Favored by hot money spenders in May this year.

 

Gold

 Continually increasing gold price is recognized as a quick way to generate profit in the short run.

Relatively low stock prices now may attract hot money. 

Hot money is blamed for unaffordable housing prices in China. 

Great art continues to inspire buyers and generate high prices.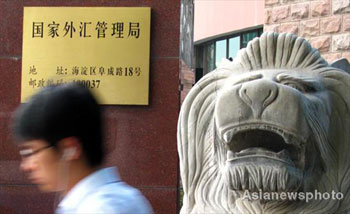 SAFE vows crackdown on 'hot money' inflows
China's foreign exchange regulator, the State Administration of Foreign Exchange (SAFE), said on Oct 12 it will continue to stop inflows of speculative money, or "hot money," into China and crackdown on illegal foreign exchange activities.[Full Story]
More stories:

 SAFE to monitor hot money flows


 China to continue to fight hot money inflow: SAFE


 SAFE says China faces pressure to curb abnormal capital inflow


 China uncovers $7.3b fraudulent FX deals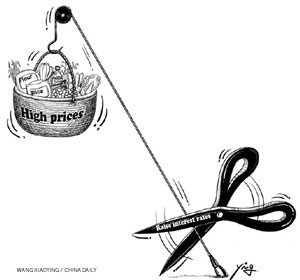 China vows more measures to curb inflation
China vowed to increase efforts to combat inflation while maintaining "stable and relatively fast" economic growth, as consumer inflation hit a 28-month high of 5.1 percent in November.
"The priority is to actively and properly handle the relations between maintaining steady and relatively fast economic growth, economic restructuring and managing inflation expectations," according to a statement released after the high-profile Central Economic Work Conference.
The conference also reaffirmed the recently introduced "prudent" monetary and pro-active fiscal policy for 2011. [Full Story]

 Special coverage: 2010 Central Economic Work Conference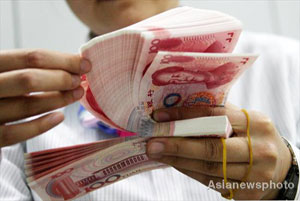 PBOC urges lenders to vet yuan trade settlements
China's central bank has urged lenders to strengthen verification of cross-border trade settlements in yuan, as part of efforts to curb hot money inflows, the Securities Times reported on Dec 3, citing Fan Linchun, an official of the Guangzhou branch of the People's Bank of China. [Full Story]
More stories:

 China to increases yuan-settlement companies


 China issues new rules on RMB settlement accounts


 Cross-border yuan trade to boost liquidity


 China expands pilot program of yuan settlement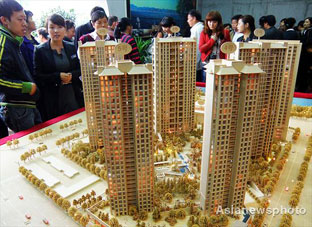 Changes aimed at cooling the flow of 'hot money'
Foreign institutions with a presence in China will only be allowed to buy commercial property for their own use and it must be in the city in which they are registered.
The Ministry of Housing and Urban-Rural Development and the State Administration of Foreign Exchange have issued a notice outlining the rules that will also only allow foreign citizens living in China to buy one home for their own use, Shenzhen-based Securities Times reported in November, citing unnamed sources. [Full Story]

 Special coverage: China's Real Estate Curbs

'Hot money' controllable
China will be able to keep inflows of speculative capital under control even if the latest clarifications on its yuan policy trigger any influx of "hot money", Yongding, a former member of the central bank's monetary policy committee, has said.
"But we should not panic and stop allowing the yuan to get more flexible simply because of that(inflows of speculative capital); we can keep it under control by enhancing cross-border capital control," Yu, who is also head of the China Society of World Economics, told China Daily. [Full Story]
Easing of hot money 'unlikely'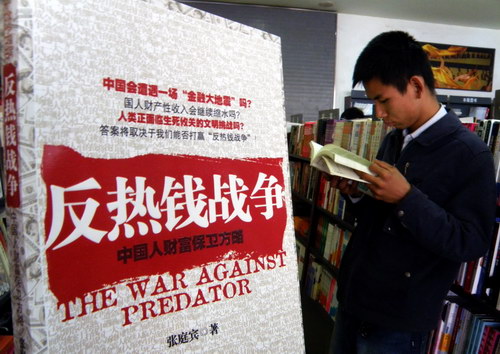 A customer reads a best-seller, The War Against Predator, in a Xinhua Bookstore in Yichang, Hubei province. China has become one of the most attractive destinations for speculative money. [Photo / China Daily]
China's foreign exchange regulator has vowed to crack down on illegal cross-border capital flows, but analysts said the pressure from the influx of speculative money is unlikely to ease. [Full Story]
China has curbed hot money inflows
China has made some progress in combating illegal flows of speculative capital and at present is not facing a large influx of hot money, the country's foreign exchange regulator said on May 25. [Full Story]
Regulator plays down hot money fears
The $453 billion increase in China's foreign exchange reserves last year partly reflected currency valuation effects and was not solely due to inflows of "hot money", the State Administration of Foreign Exchange (SAFE) said on Jan 19. [Full Story]
 

Q: What is "hot money"?

There is no formal definition of hot money. It generally refers to extremely volatile, short-term capital that moves on short notice to any place providing better returns.

Powerful speculators can quickly pump massive sums into a high-yield economy, giving it an artificial aura of success and propriety. But, on a mere suspicion of a downturn or other negative factor, they can (and do) withdraw it almost overnight causing a near collapse of the country's financial structure.

Q: Why does hot money target China?

Hot money flows into China mainly from people betting on the appreciation of the yuan and possible interest rate hikes.

Q: How does one calculate the amount of hot money?

There is no well-defined method to estimate the amount of hot money flowing into an economy during a period of time since it flows quickly. In addition, once an estimate is made, the amount of "hot money" may suddenly rise or fall, depending on the economic conditions driving the flow of funds.

One common way of approximating the flow of hot money is to subtract an economy's trade surplus (or deficit) and its net flow of foreign direct investment (FDI) from the change in the economy's foreign reserves.

Exchange rates should also be taken into account when you are doing the calculation.

Q: How can hot money enter China?

China has strict restrictions on cross-border capital flows but hot money can still make its way into the country.

Hot money can come into China in the form of over-reported or false foreign direct investment (FDI) or via underground banks (Dixiaqianzhuang). 

 

 

 
Produced by Song Jingli and Ren Jie