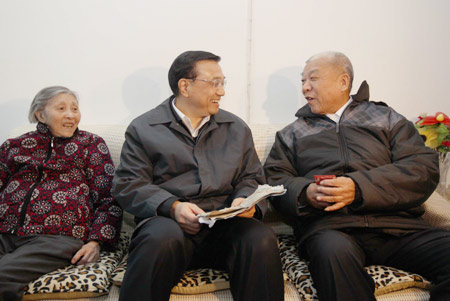 Vice-Premier Li Keqiang (middle) talks on Tuesday with Xie Yaoan (right) and his wife about their housing conditions at Xie's home in Mudan residential community of Ningbo city, Zhejiang province. Li traveled to the city to inspect its social housing.[Photo/Xinhua]
BEIJING - China's top think tank has said that the country's real estate bubble has soared in urban areas, with the biggest gap between market price and actual value in Fuzhou, capital of East China's Fujian province.
The actual value of commercial housing in Fuzhou is only 3,998 yuan ($600) per square meter, while the market price is 13,457 yuan, according to a survey published in a report on the housing market in China (2010-2011) released by the Social Sciences Academic Press on Wednesday.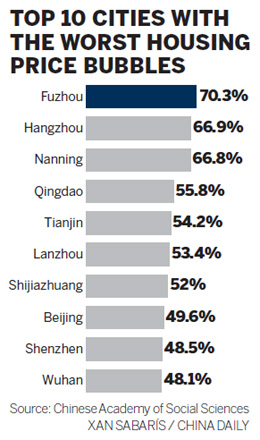 The survey, covering 35 large and middle cities, was conducted in September by the Institute of Finance and Trade Economics under the Chinese Academy of Social Sciences (CASS).
In Fuzhou and six other cities, the bubble index is more than half of the market price, the survey found.
The bubble index was designed to take into account 11 sub-indexes, including public infrastructure and facilities, and average per capita disposable income.
First-tier cities such as Beijing, Shanghai and Shenzhen are among 11 cities where bubble indexes account for 30 to 50 percent of the market price, it said. Eight cities have a bubble indexes from 10 to 30 percent, and the index in nine cities are below 10 percent.
The report said the average bubble among the 35 cities is 29.5 percent, and there is little or no bubble in Taiyuan, Hohhot, Shenyang, Xiamen, Haikou, Yinchuan and Urumqi.
The annual report said the rapid rate of housing price rises in China will slow next year after the government took tough measures to cool the market.
In October, the People's Bank of China raised interest rates for the first time in nearly three years, in an attempt to combat inflation and soak up excessive market liquidity.
According to the latest round of policy tightening, launched in September, local governments will be held responsible for any negligence in the implementation of the central government's real estate policies.
China's two major ministries in charge of housing development are organizing wide-ranging inspections across the country to check the implementation of existing real estate policies, paving the way for proper adjustment for the next policy stage.
The joint inspection, carried out by the Ministry of Housing and Urban-Rural Development and the Ministry of Land and Resources, will focus on local government's efforts to ensure land supply, the construction of economically affordable housing and the cleaning-up of idle land parcels, industry sources said.
However, the country's real estate market is still facing many problems and challenges, said experts from CASS.
"The government target is not clear and policy is incoherent," Ni Pengfei, director of the Research Center for City and Competitiveness at CASS said on Wednesday in Beijing.
Related readings:


 China's real estate industry


 Authorities and real estate developers


 Report indicates booming 2011 for Shanghai real estate


 Real Estate Special: New Shanghai ICC: Green, elegant and efficient
"The country's macro economy overwhelmingly relies on real estate, and people might invest in real estate when confronted by inflation," he warned.
An increasing number of foreign institutional investors are flooding into China's property market, lured by the sector's high investment returns and the country's solid economic fundamentals.
Statistics from the Ministry of Commerce showed that 114 foreign-funded real estate companies submitted applications in November, either for the launch of a new company or to boost capital for those already in existence. The figure is 2.71 times that of October, showing how foreign investors have rushed to enter China's real estate market.
Huang Xiaohu, deputy chief of the China Land Science Society, said on Wednesday that the white-collar class that cannot benefit from affordable housing policy needs more assistance.
Social housing policy could only cover 6 to 8 percent of consumers, while rich people, who are not bothered by high prices in the housing market, might represent only about 20 to 30 percent of consumers, he said.
Therefore, a huge number of people, caught between those situations, were waiting for the bubble to burst, he said. "They might affect social stability," Huang said.