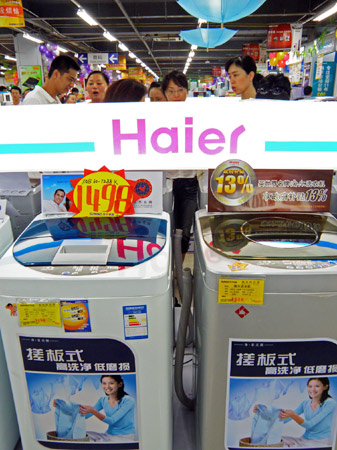 Customers shop for Haier washing machines at Suning Appliance, one of China's largest consumer electronics retailers, in Yichang, Hubei Province. PPF Group, a Czech-based financial and investment group, plans to provide personal credit cards and loans for consumer purchases in the Chinese market. [

Photo/

China Daily

]
New regional branch underscores China's openness to foreign lenders
BEIJING - PPF Group, the largest financial and investment group in Central and Eastern Europe, has invested 300 million yuan ($45 million) to establish the first foreign-funded consumer finance company in Tianjin on Wednesday.
The move is a signal to the world that China is opening its financial business and allowing foreign companies to operate under regulation, said Alexander Labak, chairman and chief executive officer of Home Credit Group, the consumer finance branch of PPF Group.
Labak said that there is the mistaken impression that the Chinese government does not grant foreign companies full access to its financial market.
The establishment of Home Credit Consumer Finance Co Ltd in China has proved it is "not justified".
"Consumer finance may be the last major financial service industry that is not represented in China", and opportunities are substantial in China, Labak said.
In Central and Eastern Europe, around 50 percent of people apply for consumer finance services when they purchase electronic products. Consumer finance, credit cards and bank loans make up the three major business models in the personal loan market in many countries, he said.
However, in China, consumer finance is still a new idea for many people, and the market needs to learn about the service, he said.
The new company will provide loans up to 10,000 yuan to people who want to buy electronic products, such as mobile phones, computers and refrigerators. Borrowers are given 12 months to repay the loan.
Customers need only present two documents, such as an identity card and driver's license, to apply for a loan, Labak said, and they will receive an answer at the electronics store within 20 minutes.
Related readings:


 Toyota's China auto finance company fined for bribery


 First consumer finance company may struggle to attract interest


 China's first foreign consumer finance company established in Tianjin
Compared with credit cards and bank loans, consumer finance is faster, simpler and more convenient, he said.
Electronics stores, such as Suning, prefer consumer finance because buyers need not leave the shop to get funding.
"The targeted customers are those without a credit card and who earn less than 5,000 yuan a month," Labak said.
Miroslav Kolesar, PPF Group China's chief representative, said farmers who want to buy a motor, and migrant workers who want a new cell phone are easy to find in every country, and consumer finance can help China to stimulate domestic demand.
"In the next two to three years, we hope to issue 10 million yuan worth of loans in China annually," he said.
In China, 6,500 electronics stores already offer Home Credit Consumer Finance's service. Another 13,000 stores across the country are expected to start providing the service by the end of 2011, netting a daily business volume of 20,000 loans.
Home Credit Consumer Finance is one of four companies approved last July by the China Banking Regulatory Commission in a pilot project. The other three were established this year and are based in Beijing, Chengdu and Shanghai.