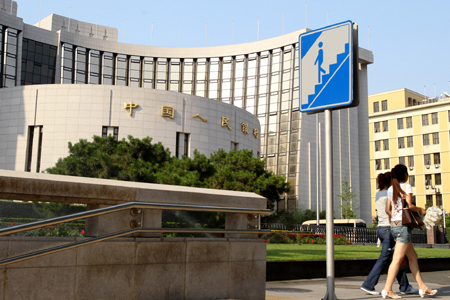 The headquarters of the People's Bank of China. New loans may exceed 500 billion yuan ($75 billion) in November, making it possible that the whole-year credit supply will exceed the central government's target of 7.5 trillion yuan. [Photo/China Daily]

Total credit in 2010 seen higher than market expectations
BEIJING - China's new loans in November may top 500 billion yuan ($75 billion), sparking speculation among analysts that the whole-year credit supply may exceed the central government's target of 7.5 trillion yuan.
"The total credit supply for 2010 is likely to reach 8 trillion, exceeding the government target by 6.7 percent, said Liu Yuanchun, deputy director of Renmin University's School of Economics.
New loans stood at 588 billion yuan in October, far higher than market expectation, bringing the total credit in the first 10 months of this year to 6.88 trillion yuan - 600 billion yuan lower than the government's loan target for this year.
Credit demand remains vigorous and new-loan growth may well exceed 7.5 trillion yuan next year if the policymakers do not adopt tough measures to contain growth, China Securities said in a report.
Taming fast-rising inflation has been a top priority for the central bank, after it accelerated to 4.4 percent in October, the fastest pace for two years. M2, the broadest measure of money supply, also rose 19.3 percent in October from a year earlier.
Hu Xiaolian, deputy governor of the People's Bank of China, said last week that the monetary authority is facing a challenge to keep new loans within the target range it set at the beginning of the year, after lending expansion rebounded in recent months because of robust credit demand.
Hu said the central bank will make full use of its policy tools, including the reserve requirement ratio and interest rate, to steer money and lending growth back to normal levels.
The central bank last month raised interest rates for the first time since 2007, and twice told banks to set aside more deposits as reserves, to limit their capacity to lend.
UBS Securities said in a report that Beijing will likely take more measures to curb inflation and strengthen liquidity management, including accelerating the pace of yuan appreciation, issuing more central bank bills, and further raising the deposit reserve ratios and interest rates.
Some analysts said that Beijing's monetary policy will continue to tighten in 2011, and it's estimated that new- loan growth will be lower than this year's target, at between 6 trillion yuan and 7 trillion yuan.
"There will be a steady growth in lending for the entire banking industry in 2011," said Li Lihui, president of Bank of China, adding that the banking industry is expected to see stable growth throughout next year.