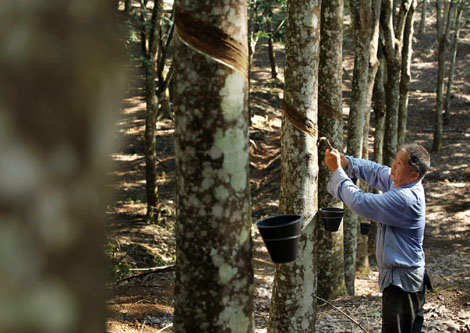 Low Sang taps a rubber tree for latex on his rubber plantation in Triang, Pahang, Malaysia. Many Chinese manufacturers are struggling with sharp increases in rubber prices. [Bloomberg]

Businesses take hit from rising costs, 'fast' yuan appreciation
HANGZHOU - Gilles Mangin has been doing business in China for two years. He and his two Chinese partners opened a factory in 2008 to produce 1 million rubber boots a year for the overseas market.
But Mangin was relieved to finally see orders for this year close in October, giving his factory a chance to improve its balance sheet that has been "very much affected by inflation in the prices of materials".
"Profit now is just above zero," the chief executive officer of Sydney D Footwear Ltd said, adding that the profit was about 10 percent before rubber prices started to spike at the beginning of the month.
Mangin is not the only one feeling the pinch. As the appreciation of the yuan is "too fast" and the price of raw materials is "soaring abnormally", many rubber producers and exporters in China and overseas are now struggling to survive.
China has been the world's largest rubber importer and consumer since 2003.
Rubber imports rise by about 10 percent every year and the country purchased 1,340,000 tons of rubber during the first nine months of this year from producers like Malaysia and Thailand.
China is also the world's largest exporter of rubber products, with its international sales totaling $25.3 billion last year. Hit by the global financial crisis, the amount was 28.4 percent lower than that of 2008.
As the yuan appreciates, the going is getting tougher for producers and exporters of rubber products in China.
In 2009, 924,000 people worked in Chinese rubber enterprises above a designated size, including 279,000 people in tire companies and 206,000 others in rubber shoe companies, industry figures showed.
But since the beginning of October, rubber prices have gone up by about 1.5 percent every two to three days, hitting a decade high on Oct 18 at 31,580 yuan ($4,731) a ton in the Shanghai Rubber Futures Market. The spot price for natural rubber also reached a high of about 30,000 yuan a ton.
Mangin's factory used 30 tons of rubber in 2009, costing him about 750,000 yuan. But the same amount of rubber would cost him up to 960,000 yuan this year.
"About 45 percent of the materials are rubber, covering one-third of the total cost, which means when the rubber price goes up by 10 percent, our costs will go up by 3 percent," Mangin said.
But it is difficult for Mangin to resolve the problem simply by raising retail prices, as orders are often made six months before the products are manufactured. Raising prices of confirmed orders is not only unacceptable to customers, but also puts the reputation of the producer and exporter at risk.
"I can only try to raise prices for the next year. Now the key factor in maintaining profit is to increase our productivity and quality, but it is still not helpful," said Mangin, referring to a labor shortage as another difficulty.
In fact, the pressure of controlling costs makes recruitment even more challenging.
Mangin's factory has 190 workers, producing 1 million boots every year on its three production lines. It earns about $7 million selling them 100 percent to the foreign market, aiming mainly at the high-end and fashion markets in Europe, the US, Japan and South Korea.
Gao Lingyan, office manager of Sydney D, told China Daily that the price of the factory's current rubber inventory is actually lower than it was in April, but the total cost is higher and yuan appreciation is one of the reasons behind that.
"It is difficult to predict the business for next year, but we are hoping things will improve," she said.
The situation is worse for those whose profit margins are narrower, especially for businesses that rely heavily on exports.
Ge Ning is part of the management team of a small safety footwear firm in Dalian, a port city in Northeast China's Liaoning province. Unlike Mangin's factory, Ge outsources production and his company relies on profits from exports.
"My mood is in inverse proportion to the value of the yuan", he said.
Ge's firm took an order in August, when the dollar was worth 6.82 yuan. Production lasted for about 50 days and when the products were finally ready for shipment, the dollar was already worth 6.62 yuan.
"That means that for every $10, I lost 2 yuan. That was more than 2 percent lost, and our profit rate was just about 8 percent," he said.
The yuan appreciation against the US dollar reached 2.5 percent ever since the central bank decided to further enhance the yuan rate flexibility.
According to a report in the People's Daily, research has shown that for every percentage point of the yuan's value rising, the net profit rate of Chinese exporters drops 1 percentage point. The average profit rate is between 3 percent and 5 percent.
"Labor costs go up, but it is a long-term change. Prices for raw materials such as rubber and cotton are soaring, but this is a short-term and regular fluctuation, we can be prepared for them. But the yuan's value is rising too fast, leaving us with no buffer. It is now the biggest risk in the business and we have no effective countermeasures," Ge said.
The factory recorded a profit in the first half of this year, but it will probably face a deficit in the second half, Ge said.
Days before flying to Guangzhou to attend this year's China Export Commodities Fair as an exporter, Ge said: "I don't know what yuan exchange rate I should offer to potential customers."
He said the situation for rubber producers and exporters will be even harder if China further appreciates its currency.