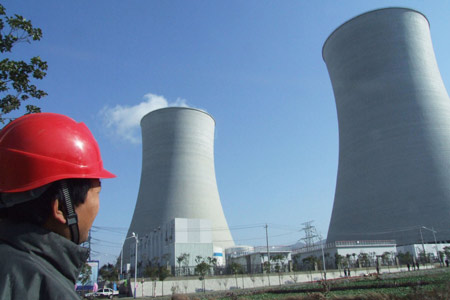 A worker looks at a China Huaneng Group power generation plant in Anhui province. [Photo/China Daily]
Many State-owned enterprises in sector suffering from 50 percent losses this year
BEIJING - Chinese power generators are likely to suffer losses this year as higher coal prices continue to erode profit margins, industry figures showed.
Hong Kong-listed Huaneng Power International, China's largest electricity provider, said on Monday that its third quarter profit fell by nearly half from the figure a year ago due to higher costs in power generation.
Huaneng, like other power producers, is facing a bleak outlook because of soaring prices of coal, which accounts for 70 to 80 percent of power generation.
Many of the State-owned power companies are suffering a 50 percent loss this year, a senior official from one of the companies said.
Qinhuangdao's coal price, considered the industry benchmark in the country, has extended gains and risen by as much as 7 percent within one month.
The price of power-station coal with an energy value of 5,500 kilocalories a kilogram rose to between 750 yuan ($113) and 760 yuan a ton as of Oct 26, compared with 710 to 720 yuan on Sept 25.
Liu Zhicheng, executive director of Bank Of China International (China), estimated that the country's benchmark coal price may increase 9 percent this year and 14 percent in 2011.
Related readings:


 N China's Xilin Gol League plans power boost


 Coal consumption to fall


 July power output rises 12% to record


 Huaneng net rises as power output surges
By contrast, coal supplier Yanzhou Coal Mining reported a profit that increased more than two times while its coal production rose by 38 percent in the third quarter, according to the company's statement on Monday.
Coal consumption is expected to increase as cold weather creates more demand for heating.
The National Energy Administration (NEA) also said on Monday that China's power consumption will slow in the fourth quarter and coal supply is generally adequate because of the growth in factory production easing.
Coal imports will grow by 16 percent from last year's figure to 120 million tons, according to the NEA.
Major power producers including Huaneng, Huadian, Datang and China Resources also reported a 20 percent growth in power generation so far this year, indicating more pressure from fuel costs.
The National Development and Reform Commission has recommended an increase in on-grid tariffs of coal-fired power plants in seven provinces by 15 to 25 yuan a megawatt-hour last month, during a meeting with representatives from the five biggest power producers in China.
As China's consumer price index (CPI) hit 3.6 percent in September and is expected to continue rising in October, an increase in power tariffs will translate into further hikes in the CPI.
International coal prices also remain at high levels and these are unlikely to offset domestic pressure through imports, said industry analyst Song Zhichen from China Investment Consulting.