Tongzhou development will reduce congestion by having everything anyone needs, say planners
BEIJING - Think of Shanghai and the chances are it is now images of the Pudong New Area that spring to mind rather than the historic Bund. With its iconic skyline featuring the Oriental Pearl Tower, the Jianmao Building and the Shanghai World Financial Center, the new business area has become symbolic of China's rapid economic development from farmland into a glittering urban tribute to the gods of modern architecture.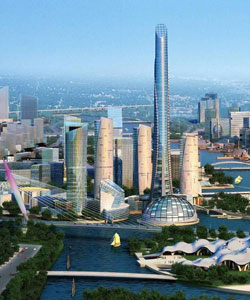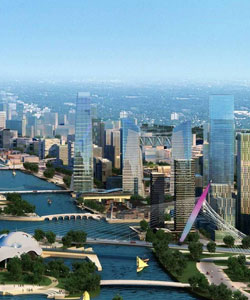 An artist's impression of how the Tongzhou development might look if all goes according to plan. [Photo / China Daily] 
Beijing is now on the brink of getting its very own Pudong with the transformation of historic but shabby Tongzhou in the southeast of the city from commuter dormitory to business, entertainment, health, education, industrial, high-end residential and recreational hub.
The first major contracts were unveiled earlier this month after months of behind-the-scenes work attracting domestic and overseas companies to sign up to the district.
"Thirty-five real estate investors have already shown an interest, including the US Perot Group, Hong Kong Swire Properties, CITIC Group and Beijing Oriental Plaza Co Ltd," said Stephen Xu, director of the International Business of Beijing Investment Promotion Bureau, whose job it is to promote the ambitious development that will see a new financial district for the city. "It will be an international city like Pudong or Shenzhen."
Others are more effusive. "It will in effect be an entirely new, self-contained city on the outskirts of the capital with all that entails, if it goes according to plan," said a guest at a recent forum for 300 at a five-star Beijing hotel designed to bring potential investors and other interested parties up to date with the progress of the development. "You will be able to live and work there with no real need to go into Beijing proper."
Foreign companies
Among a host of top companies invited to set up quarters in the new district are Siemens (China) Co Ltd, SK Group (China) and China Hewlett-Packard Co Ltd.
"We hope to take some of the population out of Beijing to reduce congestion," said Xu. "It will be a water city like London, New York and Tokyo. It will also be a 'green' city. Very many new, low-carbon concepts will be used to build it and keep it green."
Although Tongzhou will remain one of Beijing's 18 districts, it will be very different from the others, said Xu. "At the moment many people commute to the Central Business District (CBD). In the future they will live and work here. Before there was no industry here."
Tongzhou covers an area of about 906 square kilometers in total, about the size of Hong Kong. The new financial zone will be about 7.3 square kilometers, while the entire new CBD will be built in an area of 48 square kilometers along the Grand Canal. It will lie about 20 km from Tiananmen Square, 13 km from the CBD, 10 km from Beijing International Airport and 100 km from Tanggu Port in Tianjin. In total, an area of 155 square kilometers will be utilized for the new city, including 85 square kilometers for construction.
Tongzhou is well served by public transport and roads. It has the Beijing-Tianjin Intercity Railway, the No 2 Beijing-Tianjin Expressway, the Beijing-Tianjin-Tanggu Expressway, the Beijing-Shenyang Expressway and the Beijing-Harbin Expressway.
In addition, Baotou Light Rail Line leads directly to Tongzhou, and M1 branch, M6, M6 branch, S6 and other light railways are going to be built. Planned R1, R1 branch, S3, S5 and others will go through Tongzhou New City.
There are also five high-speed roads leading to the capital, including North Chaoyang Road, Chaoyang Road, Beijing-Tongzhou Highway, Tongchao Street and Beijing-Shenyang Expressway. Three rapid routes leading to Beijing Capital International Airport, including Tongshun Road, Bifu Road and the Sixth Ring Road, and the airport buses, will go directly to Tongzhou New City. A New Beijing East Station will also be located at Tongzhou.
Related readings:


 Urbanization could cost 24 trillion yuan


 Incomplete urbanization roadmap


 Debate: Urbanization


 Sustainable urbanization
The area was first developed in the early part of the Western Dynasty (202 BC- AD 24). It has a long history of more than 2,200 years and is famous for being a land-water city and a tremendously popular royal dock. There are a number of places of historical interest and scenic beauty, such as Beijing-Hangzhou Grand Canal, Qianlong Yudao stele (a monument commemorating Emperor Qianlong), the ruins of Zhangjiawan ancient city, the Buddha Sarira Pagoda with Lit Light and Sanjiao Temple, which integrates distinctive features of the three religious schools of Confucianism, Taoism and Buddhism.
More than 3,000 prominent contemporary original artists work in the world-renowned Songzhuang village. Tongzhou has 13 waterways with a total length of 245 kilometers, including the North Canal, Chaobai River and Wenyu River,
Currently, there are one three-grade and six two-grade medical institutions in Tongzhou. Harvard Medical City, located in Tongzhou Lucheng town is under construction. It will be an internationally-leading "green international hospital". On the educational front there are branches of Tongzhou Luhe Middle School, Beijing University of Technology, Beijing No 2 Middle School, Beijing Yucai Primary School, Shijia Primary School and Beijing Primary School.
Ideas being mooted for development include a Disneyland theme park, film studios, industrial parks, arts and media areas, a book-publishing hub, a sports stadium, a convention center, an exhibition center, a floating restaurant and a riverside forestry park.
"It will be another Great Leap Forward," said Xu. "Tax incentives will be on offer to any businesses interested in investing here."