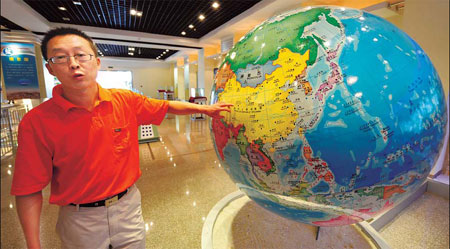 A worker with Qinghai Salt Lake Industry Group Co Ltd, the country's largest potash-maker, shows China's potash distribution. Zhang Ke / For China Daily
New deposits ease import concerns, risk posed by foreign monopoly
BEIJING - China's reliance on imports of potash may be eased after the discovery of eight large deposits with combined reserves of 468 million tons.
The resources - estimated to be two or three times greater than the amount of proven reserves - are located mainly in Xinjiang Uygur autonomous region, and Qinghai, Sichuan and Yunnan provinces, the China Geological Survey said on Saturday.
Li Gang, chairman of the China Inorganic Salts Industry Association's (CISIA) Potash Branch, said the discovery means China could produce 80 percent of its domestic needs by 2015.
That would reduce the risk of global mining companies securing a monopoly on supplies of the salt, a key ingredient in the production of fertilizers.
He also said the government is mapping out a plan to support attempts by Chinese companies to acquire potash mines overseas.
Both COFCO Corporation and Sino-Agri Corp have invested in foreign mines, but they have not yet been fully assessed, said Qi Zhaoying, an official from CISIA.
BHP Billiton's $39 billion bid to take control of Potash Corp of Saskatchewan, the world's largest fertilizer-maker, has led to concerns over supplies. There are fears that, if successful, it could result in a hike in prices, and adversely affect China's agricultural program.
Those concerns mean China is considering a rival bid to BHP's.
The State-owned Sinochem is reported to have approached investment banks with a view to creating a bidding consortium for the Canadian producer.
The country is taking a diverse approach to ensure stable supplies as global demand for the crop nutrient grows.
This year, the Ministry of Land and Resources has invested 50 million yuan ($7.35 million) in exploration. Xinhua News Agency says that figure is set to increase to 100 million yuan per annum between 2011 and 2015.
However, China will have to rely on imports in the long run as its proven resources will only satisfy domestic consumption for 20 to 30 years.
Related readings:


 Domestic investors consider rival bid for Potash


 Chinese investors approach Alberta Fund on Potash bid


 Potash CEO's key to success 

Most of those reserves are situated in western regions, according to a researcher from China Geological Survey, who declined to be named.
China, the world's second-biggest potash importer, will see domestic consumption rise 4.5 percent to 7 million tons this year, according to Wei Chengguang, the director of the Shanghai Potash Technology and Research Center.