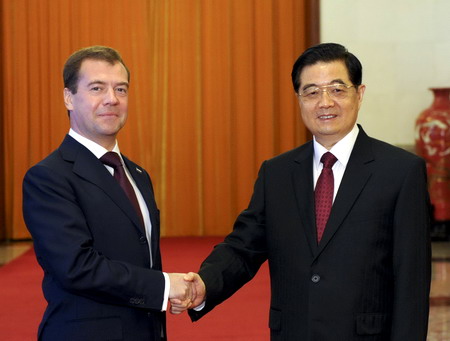 Chinese President Hu Jintao (R) meets Russian President Dmitry Medvedev in Beijing, Sept 27, 2010.[Xinhua]
BEIJING - China and Russia on Monday signed a joint statement to comprehensively deepen their strategic partnership of coordination.
The joint statement was signed by Chinese President Hu Jintao and Russian President Dmitry Medvedev after their talks in the Great Hall of the People in downtown Beijing.
The two heads of state also issued a joint statement on the 65th anniversary of the end of the Second World War.
Related readings:


 Russia's President Medvedev calls at China


 China-Russia energy cooperation enjoys bright prospects: vice premier


 Chinese section of Sino-Russia oil pipeline to complete by Oct


 Russia to supply 70% of oil to JV in China

Besides the joint statements, the two sides also signed an agreement on the fight against terrorism, separatism and extremism along with commercial deals covering coal, nuclear energy and banking.
The deals included a protocol of a memorandum of understanding on cooperation of coal, a strategic cooperation agreement on peaceful utilization of nuclear energy, a letter of intent on investment between the China North Industries Corporation and RUSAL, the world's largest aluminum producer, a contract on technology design for the No 3 and No 4 units of the Tianwan Nuclear Power Plant in Lianyungang of east China's Jiangsu province, an additional agreement on buyer's credit for export between Industrial and Commercial Bank of China and Russia's VTB Bank, as well as several agreements on energy cooperation.
Medvedev is paying a three-day state visit to China at the invitation of Hu. He will also meet China's top legislator Wu Bangguo, Premier Wen Jiabao and Vice President Xi Jinping.