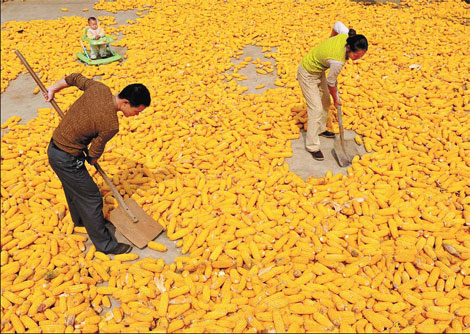 Farmers air corn in Lianyungang, Jiangsu province. [Geng Yuhe / for China Daily] 
Good autumn harvest to alleviate demand problems, say analysts
BEIJING - Surging corn imports are only a temporary phenomenon and do not pose a major threat to China's food security, agricultural experts said on Wednesday.
Corn imports saw a 56-fold increase to 282,000 tons during the first seven months of this year, according to data from the Ministry of Agriculture.
Related readings:


 Corn imports to help curb soaring prices: NDRC


 China's corn imports to help curb soaring prices: NDRC


 Rising demand likely to boost corn imports


 Corn futures soar on crop concerns in China, US
Playing down fears that further imports will trigger price hikes, the experts said the situation will improve as the autumn harvest is just round the corner.
Corn imports peaked in July, with the nation importing as much as 194,000 tons compared with 65,000 tons in June. Exports of corn, however, remained relatively stable at 13,000 tons in July compared with 9,000 tons in June.
Import surges were also seen in other commodities like cotton and wheat. Cotton imports rose by 97.6 percent to 1.71 million tons for the seven-month period, while wheat imports doubled to 1.02 million tons.
Propelled by the import surges, China's agricultural trade deficit rose by 61.9 percent to $13.05 billion for the seven-month period, the ministry said.
The urbanization pace has triggered an increase in meat consumption. In tandem with this, the demand for corn has also gone up as it's essentially used as an animal feed in China, said Jeroen Leffelaar, managing director of Netherlands-based Rabobank.
"China will become a net importer of corn from this year," Leffelaar said in Shanghai on Wednesday.
According to Rabobank, China utilized nearly 64 percent of its corn for animal feed in 2009. The balance was used for industrial and edible purposes.
Despite the sharp increase in imports and the trade deficit, analysts said there is no threat to the nation's overall food security.
"China consumes 150 million tons of corn every year. The current import volume accounts for a small portion of this. There is no need to worry about food security," said Cheng Guoqiang, deputy director-general of the Institute of Market Economy under the Development Research Center of the State Council.
Cheng said the weather vagaries had a limited impact on corn yields as the damage was restricted to certain areas. The total supplies in the domestic corn market are still unaffected, he said.
"Demand for corn has also increased from the booming processing industry," said Hu Bingchuan, an assistant-researcher at the Rural Development Institute of the Chinese Academy of Social Sciences.
The processing industry has increased its annual demand for corn to around 40,000 tons," said Cheng.
Moreover, situations like transport issues and delayed shipments are natural, and not too much should be read into a single month's price fluctuation, Hu said.
With the autumn grain harvest just two months away, the situation will improve, as the output is enough for storage and domestic needs, said Cheng.
Zhou Siyu contributed to the story.