Soccer shirts are now a major revenue driver globally
BEIJING - One of the world's top soccer brand experts said the Chinese passion for sportswear is a major income driver for the world's leading football clubs.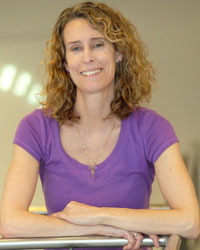 Sue Bridgewater teaches top English Premiership soccer managers how to run their clubs and believes China is a "massive" sports goods market. [Photo/Provided to China Daily]
Sue Bridgewater, author of the recent book Football Brands, published by Palgrave Macmillan, said Chinese people walking around wearing replica soccer shirts does not just boost the revenue of sportswear manufacturers.
People wearing the colored strips of Manchester United, Chelsea or F.C. Barcelona on the streets of Chinese cities also helped the football clubs to charge more for broadcasting rights because they attracted more viewers.
According to research by Bridgewater, a quarter of people of student age in China had at least one international soccer shirt.
"The merchandise helps build a loyal fan base in markets such as China and drives broadcasting revenue," she said.
"Once you have broadcasting in place you have the potential for sponsorship revenues so it is important to have these deals in place."
The world's major soccer clubs license out the manufacturing of replica soccer shirts to leading sportswear manufacturers such as Nike, Adidas and Umbro.
But Bridgewater said the clubs see such licensing deals as a lure to capture the bigger fish.
Related readings:


 Li Ning goes head to head with sportswear giants


 Chinese sports companies focus on sponsorships


 Nike, Adidas readjust marketing strategy
"It is a bigger game than just selling soccer kits. Merchandise is a third of the revenue of most of the clubs but broadcasting is a major source of income since that drives everything," she said.
Bridgewater, 46, is internationally renowned for her work on the business side of soccer.
She is associate professor of marketing and strategy at Warwick Business School in the UK and is also director of its Centre for Management in Sport.
She is best known for running special teaching programs for soccer managers.
Some of her best-known graduates are Mark Hughes, the former Manchester City and now Fulham manager, and Stuart Pearce, the former England international and currently manager of the England under-21 side.