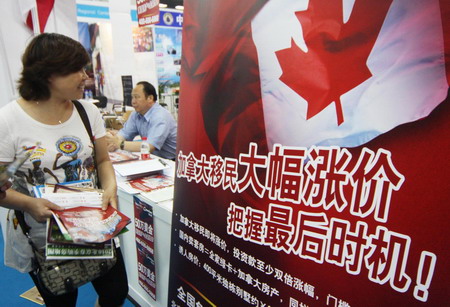 A woman passes a Canadian real estate agent's advertisement at a Beijing property fair in June targeting 'investor immigrants' to Canada. [Wu Changqing / For China Daily]
BEIJING - Billions of yuan may be transferred to Canadian banks every year from China after the media reported that Chinese are now the top seekers of permanent residency in the North American nation.
In 2009 alone, Canada admitted more than 25,000 permanent residents from the Chinese mainland. Around 2,000 applicants moved there after being wooed by Canada's immigration policies for overseas investors, which require a minimum net personal worth of C$800,000 ($771,395) and investment of C$400,000.
Both before and after arrival in Canada, applicants can transfer at least C$500,000 to Canadian banks for living expenses, according to sources familiar with the immigration industry.
Total yuan deposits in Canada may reach 6.7 billion yuan ($986.24 million) this year if another 2,000 Chinese investor immigrants enter Canada in 2010.
"This is a conservative estimate because when applicants declare they have C$800,000 in net assets, they may actually have more than 10 million yuan," said Gary Cai, the former China chief representative of Canadian Imperial Bank of Commerce (CIBC).
Cai said some Chinese applicants are on the Forbes list of the world's wealthiest individuals, and estimating their net transfers out of China would not be easy.
Five major Canadian banks, including Canadian Imperial Bank of Commerce, Royal Bank of Canada and Bank of Montreal, have established personal banking departments in China since 2000, providing services devoted to investor immigrants.
"It's an open secret that banks always love the rich and despise the poor," Cai said. "In the China-based offices of those Canadian banks, business with investor immigrants is always the most important."
Related readings:


 China tops the world with exporting immigrants


 Rich and elite make China emigration leader


 Canada's Chinese immigrants assimilate quickly


 Immigrants looking to double dip for benefits
The number of investor immigrants going to Canada is rising every year, from 5 percent of total applicants in 2000 to around 25 percent now, Cai added.
In order to track and contact more potential clients, Canadian banks take part in promotional fairs held by immigration agencies.
Cai, who was involved in Canada's personal banking business between 2005 and 2009, said he spent more than 30 weekends a year attending promotional fairs.
Besides receiving processing fees to transfer assets abroad, Canadian banks often aim to find more profitable long-term businesses.
"Banks pay a lot of attention to the period after investor immigrants have successfully landed in Canada," Charles Qi, chairman of Beijing Entry and Exit Service Association, said.
When Chinese investor immigrants arrive, they may deposit money in local banks, purchase loans to buy new houses and cars, and ask banks to take care of their assets. These services create considerable profits for Canadian banks.
Hu Lin, manager of a Beijing-based rack manufacturer, plans to become an investor immigrant in Canada this year.
"I will choose Canadian banks while my immigration is being processed. Firstly, if you use them to transfer money, they charge lower fees than domestic banks - probably 20 percent lower. Secondly, once you arrive in Canada and have a local bank account, it is a lot more convenient because of their network of branches," Hu said.