Moutai distiller sees scope to increase sales overseas on the back of 2010 expo
BEIJING - Offering a toast to guests with good quality liquor is a way of showing respect the world over.
In China, the drink of choice is traditionally Moutai, made from fermented sorghum and named after the town in Guizhou province.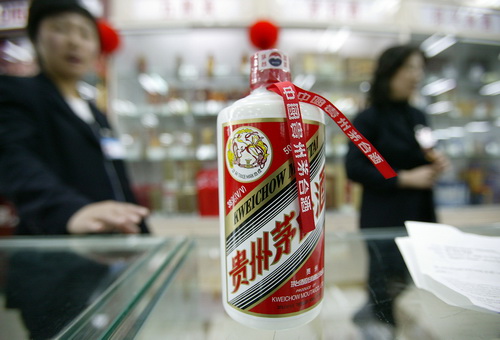 A bottle of Kweichow Moutai on display at a shopping mall in Beijing. This year, Moutai makers are seeking to use the Shanghai expo to expand overseas market opportunities. Moutai distillers paid 100 million yuan to be named the sole spirit provider of the expo. [STEPHEN SHAVER/BLOOMBERG]
The fiery beverage, which varies in alcoholic volume from 35 to 53 percent, has been used on official occasions in feasts with foreign heads of state and distinguished guests visiting China. It is the only alcohol presented as an official gift by Chinese embassies in foreign countries and regions.
Moutai's popularity as a drink with which to raise a toast has caught on at celebrations abroad with no other Chinese associations, prompting its biggest distiller to identify a gap in the market.
Yuan Renguo, general manager and board chairman of China Kweichow Moutai Distillery Co Ltd, now plans to set up marketing networks in France and Japan as a first step toward a massive overseas expansion of the spirit that retails upwards of 800 yuan a bottle.
"Moutai is China's name card and, as such, it should be introduced to more foreign people," said Yuan. "France and Japan are two places where there are many Chinese people who can help to increase the liquor's popularity among their foreign friends."
Moutai's main customers include politicians, celebrities and hedonists. It accounts for 12.6 percent of the distilled spirit market in China, the vast majority of which is made up by its far cheaper relation, baijiu.
Yuan is optimistic about business in the French market. He says there are more than 10,000 Chinese restaurants in Paris and, as such, if just one bottle of Moutai wine is sold in each eatery, that will mean 10,000 in sales and big profits. Last year, 526 tons of Moutai were exported to foreign markets. This was a 14 percent increase on 2008 figures.
Yuan plans to push his Moutai into the United States, Canada and Australia within the next five years.
Related readings:


 Moutai looks to int'l markets


 Moutai chairman earns 20 times more than Wuliangye's


 Liquor producer Kweichow Moutai net profit up 13.5%


 Moutai moves to double output


 Moutai to raise price by 13% next year

Other Chinese distillers are adopting a different approach to the demands of internationalization. Many are transferring company stock to large foreign liquor producers that can then bring out the Chinese liquor on international markets.
Anhui Kouzi Wine Inc, a privately owned company producing distilled spirits, sold a 25 stake to Goldman Sachs Group Inc for 355 million yuan in September, 2008.
Sichuan Swellfun Co Ltd, a premium Chinese liquor producer, transferred its 4 percent stake in its parent company, Sichuan Quanxing Group, to Diageo, the world's leading premium drink provider, in March this year, increasing Diageo's stake in Sichuan Quanxing to 53 percent.
Paul Walsh, chief executive officer of Diageo, said his company would cooperate with its Chinese partners to bring their white spirit brands to the world.