BEIJING - A new era in global luxury brands is coming to China with more companies in the sector buying back direct control of their operations in the country from local business partners.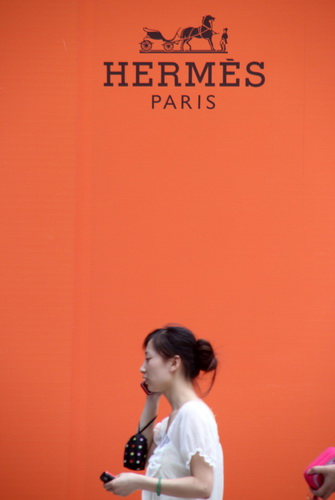 A girl passes by a huge billboard advertising a new Hermes shop in Nanjing, capital of East China's Jiangsu province. [Photo/CFP]
Last month, Burberry, the UK's largest luxury company, bought its Chinese franchises for $107.65 million to unify its brand. After the completion of the deal, 50 boutiques and assets of its Chinese partner, Hong Kong-based Kwok Hang Holdings, will be managed directly by Burberry. In addition, the brand will open 10 stores and intensify the monitoring of its distribution chain, sourcing and market development in China.
Currently, Burberry has 50 franchise stores in 30 cities around the country.
Coach Inc, a leading American design house of luxury goods, completed the acquisition of its domestic retail businesses in China from its distributor, Hongkong ImagineX group in 2008. In the same year, Mont Blanc, the Swiss manufacturer of premium watches and pens, withdrew its agency from Shanghai Gracing Group. Chlo, the French fashion chain, has also withdrawn its agency from Hong Kong IT group.
Many international brands have also built web-based outlets in the Chinese market and resorted to direct selling.
"The withdrawal of agencies implies that international luxury brands don't want to share their high profit with others since the luxury market in China is developing at a staggering rate," said an industry expert who declined to be named.
International luxury brands often develop a new market through cooperation with local business partners who are more familiar with the scene in order to make good headway, according to the industry expert.
Industry observers see the buying back of brands as a means for them to keep a bigger slice of the profits in China, the world's fastest-growing luxury market.
Research released by the Chinese Academy of Social Sciences in May showed that the value of China's luxury market will reach $14.6 billion in the next five years, making it the largest luxury market in the world.
Related readings:


 Luxury products win mass appeal


 Return of luxury


 Luxury goods can't buy happiness


 Govt, private owner join luxury fever
According to Boston Consulting, by 2015, 29 percent of the consumption worldwide of luxury goods will take place in China.
Last week, LVMH, the largest luxury group in the world, which recorded a 53 percent increase in first-half net profits this year, also pointed to strong sales in Asian markets including China for the first six months.
Meanwhile, German fashion group Hugo Boss AG was reported last week to have sealed a deal on a joint venture with its Chinese partner, the Rainbow Group in Macao, to tap rising Chinese consumer spending power and retail consumption in China.
The German newspaper, Borsen-Zeitung, quoted Hugo Boss chief financial officer Mark Langer as saying that the joint venture with Rainbow will be 60 percent controlled by his company and 40 percent by Rainbow.