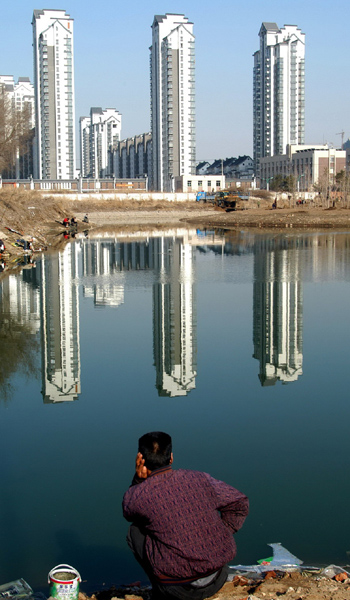 A man looks at a property development across a lake in Shenyang, Liaoning province. [Ding Ding / For China Daily] 
Tightening measures force realtors to offer more competitive deals
BEIJING - More property developers have began to cut prices and adjust their business portfolios to cope with sluggish transaction numbers due to government tightening of the real estate sector.
According to Li Wenjie, general manager of property agency Centaline China's North China Region, most Beijing developers have lowered prices by 15 percent on new projects.
Related readings:


 Poly Real Estate's Jan-May sales top $2b


 Property developers start to feel the pinch


 Developers turn to Hong Kong as lending curbed


 Evergrande leads in cutting property prices
Shenzhen-based Vanke, the country's largest real estate firm, made public sale prices of a large-scale project in Beijing over the weekend, with units priced 1,600 yuan ($236) lower than the expected price of 15,000 yuan per square meter.
Shanghai-headquartered Shimao Group just launched an upscale residential project called "Royal Garden" in Beijing's Central Business District area at a price of 65,000 yuan per sq m. The average price of similar projects nearby has been close to 70,000 yuan per sq m.
"We've taken the impact of tightening policies into consideration and are offering competitive prices even in a sluggish market," said Xu Shitan, executive director of Shimao Group.
"Without the market adjustment, we'd price these units above 80,000 yuan per sq m."
According to a sales manager surnamed Li, Shimao will sell the first 20 units at a promotional price of 45,000 yuan per sq m. If customers buy the unit outright, another 10 percent discount would be available.
So far, the sales strategy seems to be working. On the first day eight apartments were sold - a large number of luxury apartments in a stagnant market.
As more property developers lower prices to stimulate sales, some are also adjusting their business portfolio.
"We plan to strengthen our expansion into second-tier cities this year, especially in Zhengzhou, (Henan province), and Tianjin," said Shan Weibao, chairman of RK Properties Holding Limited. "We believe properties in second and third-tier cities have more price growth potential as the country's urbanization process quickens."
According to Shan, land availability is key.
"For instance, we have no plan to go to Chengdu and Chongqing as the supply in these two cities is sufficient," he explained.
Similarly, Star Rive Property Holding Limited, a Guangzhou-based property developer focused on upscale residential apartments, recently launched a new project in Taiyuan, Shanxi province.
This is the company's first project outside Beijing, Shanghai and Guangzhou.
Meanwhile, more real estate developers have begun to expand their business into the commercial sector.
Vanke plans to increase its commercial property volume by 20 percent, while Poly recently announced plans to put 30 percent of its investment into the commercial sector within three to five years.
According to Li Guibin, chairman of Guangyao Dongfang Group, now is a good time to tap the commercial sector as the tightening measures target the residential sector alone.
Besides acquiring Guangyao Dongfang plaza in Beijing, the group is managing another 15 commercial complexes this year, with a focus on third-tier cities.