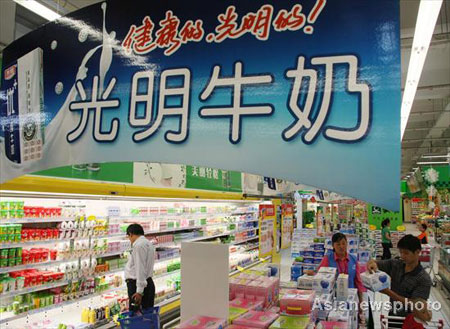 WELLINGTON - China's Bright Dairy & Food Co is investing $58 million in New Zealand milk producer Synlait, which will use the money to lift exports of milk powder and infant formula to China.
Bright Dairy, majority owned by Bright Food Group, will take a 51 percent stake in the milk processing arm of the privately-owned Synlait, which is a small player in the dairy export market dominated by giant co-operative Fonterra.
"In China, the market for premium products from New Zealand and Australia is growing rapidly. Synlait Milk will help Bright Dairy establish a market leading position in the infant formula and milk powder category with a planned co-branded range," said Bright Dairy President Benheng Guo.
Related readings:


 Bright Dairy says back to profit in 2009


 Parent set to control Bright Dairy after SIH stake buy


 Bright Dairy plunges deep into the red


 Bright Dairy posts losses of 286m yuan in 2008
The NZ$82 million from the deal, which is subject to regulator approval, will be used to build a new milk processing plant, doubling Synlait's production capacity.
Bright Dairy, one of China's main dairy companies, is 65 percent controlled by the partially State-owned bright Food Group, which earlier this month was trumped in a $1.5 billion battle for the sugar arm of Australian conglomerate CSR Ltd. [Bright Food fails in bid for Sydney-based CSR] More than 90 percent of New Zealand's dairy products are produced by farmer-owned Fonterra, New Zealand's largest company which generates more than 7 percent of the country's GDP with annual sales of about NZ$17 billion.
Synlait is split into two arms, milk production and farming, with the farming arm remaining in full private ownership.
In November last year Synlait scrapped a planned NZ$150 million float of the milk production business due to a lack of investor support.