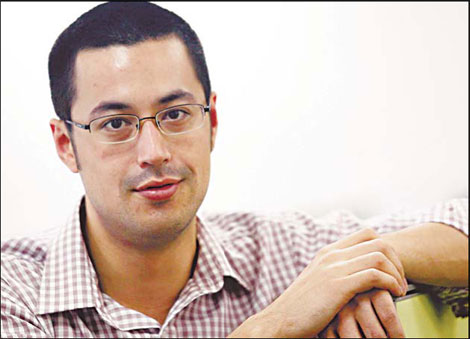 Alexander van Kemenade, an analyst with the China Regional Forecasting Service for the Economist Intelligence Unit, said that speculation of a mass exodus of manufacturers to cheaper locations such as Vietnam and Bangladesh was alarmist. [Zhang Wei / China Daily]


No dramatic mass exodus of production to cheaper countries predicted by forecasting service
BEIJING - Manufacturing will remain a major part of the Chinese economy for at least the next 100 years despite strikes and increased labor costs, according to a leading economics research body.
Manufacturing currently makes up around 47 percent of China's gross domestic product (GDP), compared with 23 percent in the United States.
Alexander van Kemenade, an analyst with the China Regional Forecasting Service for the Economist Intelligence Unit (EIU), said speculation of a mass exodus of manufacturers to cheaper locations such as Vietnam and Bangladesh was alarmist.
"I would say it was very overblown. I would give it 100 years maybe before China has the same level of manufacturing as the United States," he said.
There is little doubt that increasing labor costs in China will have some impact over time.
The hourly labor rate for apparel manufacturing in China, according to EIU statistics, has increased by 14 percent since 2009 to $1.84.
It now costs nearly four times as much to employ a Chinese worker in the garment sector than someone from Vietnam, where the hourly labor rate over the past year has increased by just 2 percent to 49 cents.
China still has cheaper labor rates than India, which is keen to develop a bigger manufacturing sector to match its already thriving service industries. The hourly rate in its apparel industry is $2.99, up 17 percent over the last year.
"I think the companies that will be looking to move to other countries such as Vietnam, India or Bangladesh are those in cost-sensitive industries including garment production," said van Kemenade.
"It is feasible for them because they want to make 20-year decisions. Their concern about China is that if they move inland to other provinces they will face similar pressures as they currently do in the richer coastal provinces in just a few years. Labor rates and land prices will increase. They will then have to rethink their strategy again."
No one can deny that increasing wage rates in China is not a significant issue. The average annual manufacturing wage in Guangdong, China's industrial heartland, increased by 144.2 percent from 1998 to 2008, according to EIU figures.
The rises were even greater in the bordering autonomous region of Guangxi Zhuang, and Hunan and Guizhou provinces, all within the Pearl River Delta basin.
Manufacturing wages in Hunan increased by 263.2 percent, while the rises in Guizhou at 258.8 percent and Guangxi at 244.2 percent were not far behind.
The picture in the rest of the country is very little different. Wage rates have soared in the Yangtze River Delta too.
The annual manufacturing wage in Shanghai in 2008 was the highest in the country at 42,311 yuan, increasing by 226.8 percent over the 10-year period.
There was a similar story in the neighboring Yangtze provinces of Zhejiang and Jiangsu, where wages rates rose by 186.2 percent and 247.2 percent, respectively.
Those companies hoping to get a cheaper deal on labor costs in the more western provinces such as Sichuan would also find it difficult.
The average annual manufacturing labor rate there of 22,046 yuan is only slightly lower than in Guangdong itself.
"The story of the 1990s was the east getting richer and the west more or less remaining stagnant. What we have been beginning to see since the beginning of the millennium has been the gradual disappearance of regional disparities. Income levels are growing more or less at the same level now," added van Kemenade.
In the southwest major city Chongqing, a municipality governed in its own right separately from the Sichuan province and the world's fastest growing urban center, annual manufacturing labor rates have nearly trebled over the 10 years from 6,392 to 24,131 yuan.
Even in remoter regions wages have soared, rising by a massive 335.9 percent in Inner Mongolia from 5,127 to 22,352 yuan. It is a similar story in Tibet with manufacturing pay increasing by 247.2 percent from 5,612 to 19,486 yuan.
The obvious implications of this are that it is becoming more difficult for both foreign and Chinese companies to switch production to other parts of China to save significantly on labor costs.
Related readings:


'Made in China' - but for how long? 


 Manufacturing expands slower than expected


 Cheap labor has limits in manufacturing industry


 China's May manufacturing expands at slower pace

"A lot of people tend to think when you can just head further inland you start hitting upon these bottomless pools of surplus labor enabling you to hold costs down indefinitely. We really don't see that happening," said van Kemenade.
The analyst added that the manufacturing emerging in the major inland cities such as Chongqing did not tend to be companies seeking ever cheaper labor but often those looking to set up advanced manufacturing facilities aimed at producing goods for the China market.
"The major investment, much of it foreign, that you have seen in these inland cities has not been the type that typically follows the cheapest sources of labor. It has been fairly high value-added advanced manufacturing," he said.
China manufacturing still largely only occurs, according to van Kemenade, east of a line from Kunming in Yunnan province in Southwest China, going up through Chengdu, the Sichuan capital, to Xi'an and then Beijing.
"West of that is more or less no-go land. That line is very much the final frontier for investment unless it is resource-specific," he added.
"I think you would have issues getting your typical expatriate staff out to Inner Mongolia or Tibet."
Van Kemenade said there remained many major advantages for manufacturers to be located in the Pear River Delta, despite increasing wage rates.
"You are close to ports, the transport links are very sophisticated, the logistics work well and there is a clustering effect in that you can source just about any component from the existing manufacturers there," he said.
Van Kemenade said China still had a lot of strengths as a manufacturing heartland and any move away to other countries in Southeast Asia would happen only gradually.
"It is a gradual trend and it will still be a gradual trend in 10 to 15 years. I think by then you could have a situation where you have a minimal number of garment factories in China but you can be pretty sure there will be a sizeable manufacturing sector. This sort of thing does not change overnight," he said.