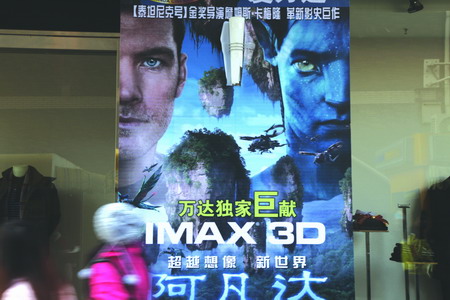 Avatar has helped many theaters earn a lot money because of the IMAX format. [Chi Tu / for China Daily]
Canadian film company plans to expand with more giant-screen theaters
BEIJING - IMAX Corp, the Canadian motion-picture film format company, is gearing up to expand in China with more giant-screen theaters and a greater variety of movies, including Aftershock, the first non-English IMAX film.
China is currently the second-largest IMAX market, after the United States, with 23 IMAX cinemas. The company has plans for about 50 IMAX theaters on the mainland by 2012. IMAX and Wanda Cinema Line Corp, one of the fastest growing cinema chains in China, recently announced the addition of three theaters to the cities of Quanzhou, Wuhan and Dalian, which will give Wanda 14 IMAX screens on the mainland by the end of 2012.
"The Chinese film market is in a period of phenomenal growth," said film critic Tan Fei. "Chinese audiences want higher quality in pictures and sound, which can be seen with the popularity of films such as Avatar and Alice in Wonderland. So IMAX's large-format version has become a big draw for many movie operators and movie-goers."
The nation's total box office reached 6.2 billion yuan ($915 million) in 2009, a 43-percent increase from 2008, according to a report in February by EntGroup Inc, a film industry consulting company in China. It estimates that the 2010 box office revenue will reach 10 billion yuan in China with a revenue of 20 billion yuan by the end of 2012.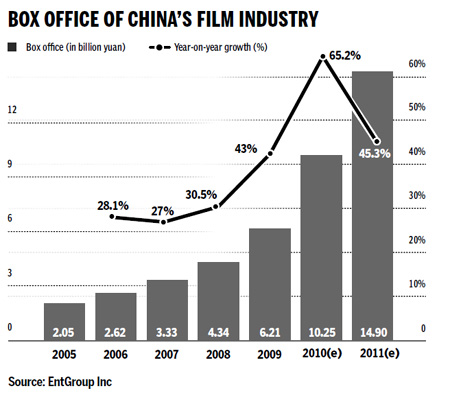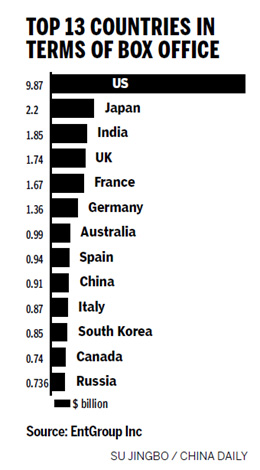 Raymond Zhou, film critic in China and writer for China Daily, said IMAX Corp realizes that technology alone will not be able to get people into theater seats. He said good movies are needed to make creative use of the huge screen. Working with Chinese directors such as Feng Xiaogang, he added, is the right strategy for IMAX, whose movies are of far greater size and resolution than most film formats.
Last month, IMAX announced a three-film deal with Huayi Bros Media Corp, China's largest privately owned film studio, to produce the first non-English film in the IMAX format. The first release will be the historical movie Aftershock, Feng's account of the 1976 earthquake in Tangshan. The movie will be shown at most IMAX theaters in China, as well as in other parts of Asia and North America, on July 22.
"IMAX has a strong commitment to China, evidenced by the fact we've chosen a Chinese film, Feng Xiaogang's Aftershock, to be our first non-English language DMR conversion," said Don Savant, IMAX senior vice-president and managing director for the Asia-Pacific. "When you combine Aftershock, this amazing film he's made, with the picture and sound quality of IMAX, you get something you can't get anywhere else."
Tan said the partnership with Huayi Bros is crucial for IMAX's expansion plans in China because more and more Chinese want to watch quality domestic movies, not just Hollywood blockbusters.
"But the big problem for IMAX theaters is that there isn't enough IMAX movies. If there are only two or three Hollywood blockbusters released per year, it means that these giant screens are free most of the year," said Tan.
Ye Ning, general manager of Wanda Cinema Line, said though the cost of an IMAX-format cinema hall is generally the price of building a new theater - about 20 million yuan - many cinema chains have plans for more IMAX screens not only because movie operators know that they can generate more revenue but because IMAX is the premium movie experience.
Related readings:


 Cinematic boom creates business opportunities


 IMAX may offer portable cinemas


 IMAX to open new theater in China


 "Avatar" boosting Imax shares


 Avatar paves the way for boomtime at Chinese cinemas
"China is living up to its potential as a strong growth market," said Ye. "With IMAX, what you get is that same story, but now the colors and the picture and the resolution are enhanced. The sound quality is better, and you get this immersive, premium viewing experience unlike anything else - it's almost like you're in the movie."
Shanghai United Cinema Lines, Shanghai's only IMAX cinema, has recorded box office revenue of 143 million yuan in January this year thanks to Avatar shown in the IMAX format, said the company's general manager Xu Xiaoping.
"This overwhelming consumer demand for watching movies in IMAX complements the business side of things," said Don Savant "We saw that most clearly with Avatar, where in China we had less than 0.04 percent of the screens showing Avatar, but took over 11 percent of the total box office - because people don't just want to see the movie, they want to see it in IMAX."