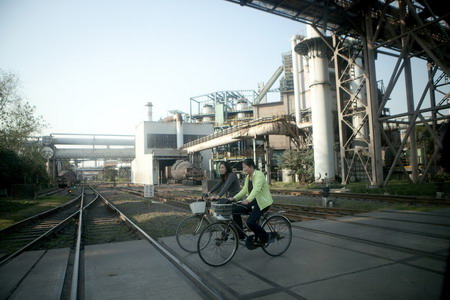 Employees ride bicycles inside the Baoshan Iron & Steel Co Ltd plant in Shanghai.[Agencies]
SHANGHAI - To sell, or not to sell? This is the question at hand for Yao Xinhong sitting on more than 4,700 tons of steel inventory.
Yao, a marketing manager with Henan Zhongtian Iron & Steel Co Ltd, a steel provider for companies involved in infrastructure construction, wind power and shipbuilding, was caught in a dilemma recently as steel prices kept sliding over the past three months.
"It's a hard decision since the more steel we sell, the more money we will lose; however, if we don't sell it, the stock will be a pile of rust," he said.
According to Yao, he will lose over 100 yuan ($14.76) on every single ton of steel he sells.
So far, domestic steel prices have dropped for 12 weeks in a row, with some categories losing 1,000 yuan per ton, said Su Lifeng, an analyst with Guoyuan Securities.
Average steel prices fell more than 400 yuan per ton to 4,597 yuan per ton by the end of June from this year's peak in April, according to figures from the National Development and Reform Commission (NDRC).
"Things changed so fast. The market was full of optimistic sentiment before the second quarter. Steel price soared more than 1,000 yuan per ton from February to April, and our net profit in the first five months this year soared 17.6 percent compared with the first five months in 2009," said Yao.
"The government stimulus package ignited the growth of steel downstream industries such as real estate, automotive and home appliances. That's the main reason the steel market performed well in the first quarter this year and also in 2009," said Su.
Related readings:


 Big steel firms won't switch to spot market-Baosteel


 4 steel firms in Tianjin merged into new giant


 New steel mill list to be unveiled next year


 China Wuhan Steel cuts Aug steel prices

For example, as a beneficiary of the central government's economic stimulus policy, Henan Zhongtian sold 560,000 ton of steels in 2009, up 17 percent year-on-year.
However, steel prices started to drop in April due to an output surplus during the peak season and the failed iron ore price negotiations between China and the three iron ore giants including Vale, Rio Tinto, and BHP Billiton.
"The bumpy iron ore talks threw a wet blanket on the buoyant market sentiment, and the expected iron ore price rise will further erode steelmakers' profits," said Su.
There are still two outstanding "straws" poised to break steelmakers' backs: one is the central government's resolve to rein in the overheated housing market, which naturally leads to less steel demand, and two, starting July 15, up to 48 steel products will no longer enjoy export tax rebates.
"Many clients choose to wait and see because they don't know where the market will go, and some of them just demand deeper discounts," said Yao.
Henan Zhongtian company still has 17,000 tons of steel in stock, and these products will generate between three and five million yuan in losses at current market prices.
Yao's awkward situation is merely a mirror of what is happening across the domestic steel industry. By the end of May, steel inventories in 26 major steel markets across China reached 15.78 million tons, up 2.3 percent from April, according to China Iron and Steel Association.