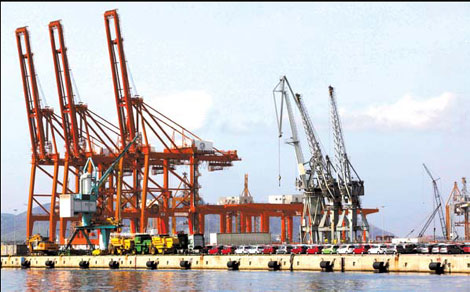 Vehicles for export sit parked at Piraeus port near Athens, Greece in February 17, 2010. [Agencies]
Despite financial turmoil surrounding Greece, COSCO Pacific, a port operator subsidiary of China's State-owned shipping giant China Ocean Shipping (Group) Co (COSCO), has signed a $4.2 billion deal to take over management of an Athens container port.
COSCO signed a 35-year lease in June and will spend $707 million to upgrade port facilities, build a new pier and almost triple the volume of cargo the port can handle.
The move is part of an effort to create a network of ports, logistics centers and railways to distribute Chinese products across Europe - in essence a modern Silk Road - hastening the speed of East West trade and creating a valuable economic foothold on the continent.
The Piraeus port in Athens can currently load and unload 1.8 million containers a year.
With a strategic position near the Straits of Bosphorus, the port also provides a way into the Black Sea region, central Asia and Russia.
COSCO aims to make the container port a hub to rival Rotterdam - Europe's largest port.
Many see the latest COSCO investment as just the beginning of a far broader scheme to access European markets.
By the end of the year China is expected to make a joint bid with a Greek company to create a 200 million euro ($252.2 million) logistics hub at Attica, near the port, to distribute goods from China into the Balkans and the rest of the continent. The Chinese are also in talks to buy a share in the struggling State-owned railway in Greece.
Agreements in June
This June, Zhang Dejiang, China's vice-premier, lead a delegation of 30 leading businessmen to Athens, signed 11 investment agreements worth hundreds of millions of euros in Greek shipbuilding, logistics, infrastructure construction and telecom projects.
Greek officials said the deals were the biggest single investment China has ever made in Europe.
Five Greek ship owners signed deals to build as many as 15 bulk carriers at COSCO shipyards, the construction arm of the Chinese shipping heavyweight.
Separately, George Economou, owner of DryShips, a Greek company listed on the New York stock exchange, signed a letter of intent to set up a joint venture with COSCO's bulk carrier division.
The shipping agreements highlight a growing trend by Greek maritime companies that trade with China to build new vessels at Chinese yards, analysts said.
Some industry analysts say that the Chinese investment is something the cash-strapped Greek government welcomes with open arms.
Related readings:

 COSCO, SeaEnergy in offshore wind industry agreement


 China's Cosco says will not halt Greek investment


 COSCO Pacific net profit up 207% in Q1


 Smoother sailing ahead for shipping: Cosco

Many in Greece believe the arrival of COSCO is exactly what its ailing economy needs.
"This is the locomotive for our development," said Nikolaos Arvanitis, president of the International Maritime Union - the organization that represents the world's largest shipping companies, including COSCO. "Greece needs investment. The Chinese came with good will and we are open to other people who want to come and invest here," told a European newspaper.
"Our old ways of working were very primitive. Now we can really drive forward and improve Greece's economy. There is nothing to be afraid of - the Chinese are here to develop our infrastructure, and we will benefit. It is a win-win project," a worker with the port said to the local media.
Yet COSCO's physical presence in Greece remains limited.
Staff in the offices of COSCO's shipping company, in a office block overlooking cruise ships at the passenger terminal, said that of their 45 members of staff, only the director and financial director were Chinese. In the port terminal offices, of 250 members of staff only 10 administrative and managerial staff were Chinese.
"We have a saying in China - construct the eagle's nest, and the eagle will come," Wei Jiafu, COSCO's chief executive, said in a recent television interview with Greece's Skai Television. "We have constructed a nest in your country to attract such Chinese eagles."
"COSCO wishes to see more Chinese companies invest in Greece and bring their goods and services to central Europe through the port of Piraeus creating more opportunities for the local economy," Wei said.