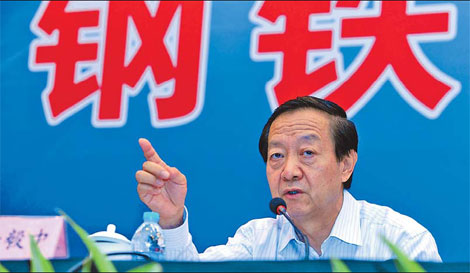 Li Yizhong, minister of industry and information technology, tells major steelmakers including Baosteel to upgrade their product portfolios at a meeting on Monday in Dalian. He also told the companies to cut emissions, a key task for the industry this year. [Liu Debin / for China Daily]

CISA to take flexible approach on participation of steel mills in trade
Beijing - The iron ore swap market is expected to grow leaps and bounds in volumes after the pricing of the commodity shifted from the traditional benchmark system to market-related prices, industry sources said on Monday.
Though producers and mills are still the key players in the swap market, it also has a middleman as the key player. The middleman effectively hedges the price of an undisclosed volume of iron ore against the backdrop of considerable volatility in the price.
The swap market is still at a nascent stage, but experts predict it will surpass the spot market over the next two or three years.
Iron ore swap volumes account for 5 percent of the spot market at present, and could triple or quadruple in the next three years, if China allows the use of derivatives, said Rory MacDonald, an iron ore analyst from The Steel Index.
The nation has strict rules in place with regard to derivatives trading by State-owned enterprises. The steel lobby China Iron and Steel Association (CISA) and China Chamber of Commerce of Metals Minerals & Chemicals Importers & Exporters have in recent times said they will not allow steel mills to be mired in iron ore swaps.
But their stance on swaps is vague indicating that the steel lobby is considering a more flexible approach in the future.
"The question is complicated and it cannot be concluded by just one sentence," Shang Shanhua, secretary general of CISA, told China Daily.
Iron ore, as the world's second largest commodity by volume after oil, is a potentially huge market for hedging products given that the seaborne market is over 1 billion tons per year.
The Japanese steel industry, the world's largest steel producer after China, started iron ore swaps primarily to hedge iron ore exposure.
Mitsui, a trading house that acts as a middleman between miners and steel mills, said on June 28 it had inked Japan's first iron-ore swap deal with Credit Suisse.
"We do see the value of iron ore swaps in hedging volatility and manage risk," said Michael Gaylard, strategy director of Freight Investor Services, a leading broker.
Related readings:


 Baosteel to be evaluated for Nissan supply
2010-07-12 14:09
China's second-largest steelmaker Baosteel Group said it will be evaluated by Japanese carmaker Nissan Motor Co as a global autosheet supplier.
This is the first time a Chinese steel producer has entered the car maker's global supply evaluation mechanism.

 China steel maker buys rights to mine Oz iron ore


 Hebei Steel signed nation's largest iron ore mine


 Steel mills expand iron ore output to ward off soaring import costs


 Baosteel to quietly give in to Q3 ore price hikes - official

Though CISA is not favorably disposed towards swaps, many Chinese players are privately involved in the swap market and are maintaining a low profile, he said.
Gaylard said there are around 10 to 20 private steel mills and around 10 to 20 traders operating in the iron ore swap market through the Singapore Exchange (SGX).
State-owned companies have also expressed their interest in swaps and have sought more information on the mechanism, he said.
China's largest privately owned steelmaker Shagang's Chairman Shen Wenrong said earlier that the company was researching the iron ore swaps market.
According to Gaylard, at present nearly 2.5 million tons of iron ore is being traded every month in the swap market this year, compared with 200,000 tons per month last year. China accounts for nearly 15 to 20 percent of the trade, he said.
"The numbers are growing fast. We still have a long way to get the products needed from large steel mills to hedge iron ore exposure," he said. "The market is still immature. But iron ore swaps are developing far more quickly than any other commodity."
"It normally takes four or five years for other commodities like coal or oil to get to that stage while it took only 19 months for iron ore," he said.
Till May, the value of iron ore swaps has been around $2 billion, said MacDonald.
Deutsche Bank AG started offering iron ore swaps with Credit Suisse in May 2008. Vale SA, Rio Tinto Group and BHP, the three big iron ore suppliers, this year scrapped the 40-year tradition of setting prices annually in favor of quarterly contracts.
SGX launched the world's first cleared over-the-counter (OTC) iron ore swap contract in April last year, moving the massive market to floating prices.