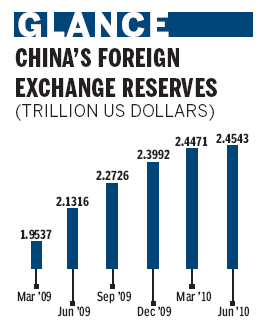 BEIJING - Don't expect any new stimulus measures, analysts said, despite the fact that China's money supply and lending tailed off in June in line with the country's anticipated economic slowdown.
In June, 603.4 billion yuan ($88.9 billion) in new yuan loans were distributed, according to the People's Bank of China, the nation's central bank, on Sunday. That is considerably less than the May figure of 639.4 billion yuan and 1.53 trillion yuan last June.
There were 4.63 trillion yuan in new yuan loans through the first six months, 2.74 trillion yuan less than the same period last year.
The amount of money in circulation plus the deposits by enterprises and individuals, measured as M2, expanded 18.5 percent year-on-year in June, which is down from the 28-percent rise in December last year when liquidity was very high after the central bank implemented its massive economic stimulus measures.
"The central bank statistics show that control of liquidity and inflation has worked," said Zuo Xiaolei, chief economist of the China Galaxy Securities. "The monetary policy has been implemented as planned."
China previously set a target of 7.5 trillion yuan in new loans this year after lending reached 9.6 trillion yuan last year, fanning worries over an excessive money supply as well as rising inflation.
The planned lending drop, together with tightening measures to rein in the property sector, has caused China's economy to retreat slightly at the start of the second quarter. Many economists estimated that year-on-year growth in the second quarter could slow to 10 percent from more than 12 percent in the previous quarter.
Lu Zhengwei, an economist with China's Industrial Bank, said that the central bank should allow for more loans in the third quarter to buffer the economy from landing hard.
Li Daokui, an economist at Tsinghua University and member of the central bank's monetary policy committee, said that the slowdown is not surprising and largely a statistical phenomenon.
Related readings:


 China curbs off-balance sheet trust lending


 China's May new lending drops to $93.6b


 New lending surge in April not worrisome


 China April new lending top 774b yuan

The low-base effect has contributed to the relatively slow growth in gross domestic product (GDP) in the second quarter, he said at a forum held by Tsinghua University on Saturday. Growth in the first quarter of 2009 was mild due to the global financial crisis at the time while growth in the second quarter of last year was higher, causing the relatively lower figures for the second quarter of this year, he said. "It's kind of a statistical illusion."
He said that policies would remain intact and there wouldn't be any new stimulus to bolster the economy.
Tsinghua University predicted that China's year-on-year GDP growth will be 10.4 percent this year, compared with 9.1 percent for 2009.
Foreign exchange reserves hit new high
The People's Bank of China also said on Sunday that the country's foreign exchange reserves reached $2.45 trillion by the end of June, up 15.1 percent year on year.
Statistics from the central bank show China's foreign exchange reserves increased by $7.2 billion in the second quarter, a drastic decrease compared to the first quarter, when reserves grew by $126.5 billion.
On a monthly basis, reserves increased by $43.4 billion in April followed by a reduction of $51 billion in May, while reserves increased by $14.8 billion in June.
China's gold reserves stood at 33.89 million ounces by the end of June.