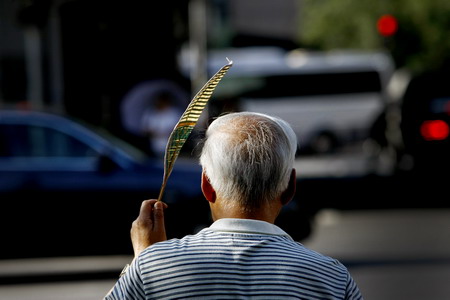 The temperature in Beijing exceeded 40 C on Tuesday breaking a historical high. [Provided to China Daily] 
BEIJING - China may face temporary power shortages in some regions this summer due to the rapid increase in consumption, the country's major power grid operator said on Tuesday.
Power shortages will occur in central, eastern and northern parts of the country during peak summer hours, as uncertainties still exist in demand and supply, the State Grid Corp of China said. The operator is responsible for power supply in 26 provinces, municipalities and autonomous regions.
According to a forecast by State Grid, the nation's power generation is expected to reach up to 13.3 billion kilowatt-hours (kWh) per day, up 8.6 percent from a year earlier. Many factors will affect the power supply such as "extreme weather and prices and transportation of coal", the company said in a statement.
The scorching heat this week has increased power use. But it will not put great pressure on supplies as most of the demand surge is from civilian use, which has a small share in total consumption, said sources.
The country will not see nationwide summer power shortages this year, as electricity use in the country's energy-intensive sectors slowed down from June, they said.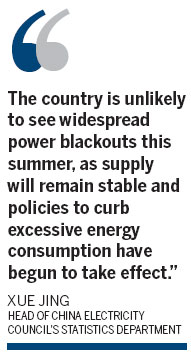 Related readings:


 China's power supply to meet demand this summer


 tHeat leaves many motorists out in the cold


 Sizzling heat wreaks havoc, rains expected Thursday


 Heat allowances sought for workers
According to State Grid, China's total power generation was 12.93 billion kWh on Monday, an all-time record. Power loads of five power grids under the management of the company also scaled new peaks on the same day.
"The country is unlikely to see widespread power blackouts this summer, as the supply will remain stable and policies to curb excessive energy consumption have begun to take effect," said Xue Jing, head of the statistics department of the China Electricity Council.
But power shortages could still occur in areas with insufficient installed power capacity or coal supplies, she said.
Power generation in June has seen negative month-on-month growth from May, China Securities Journal reported. Slowdown in power use in heavy industries has affected growth, the report said.
"June power use might be a turning point in power consumption this year," said Xue, adding that power use growth in the next few months would continue to see a slowdown as demand from energy-intensive industries is lower.
According to industry insiders, China's targets in energy efficiency and emission reduction in the 11th-Five Year Plan (2005-10) is a dominant factor that affects power consumption. Statistics showed that demand from heavy industry accounted for 62 percent of total power consumption in the first five months.