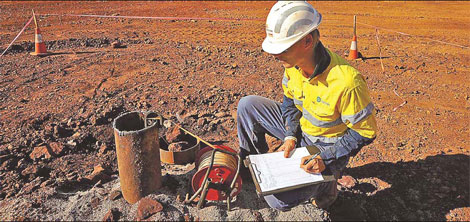 A hydro geologist measures groundwater readings while performing an underground pump test in the South Limb pit at Atlas Iron's mine in Pardoo, east of Port Hedland in the Pilbara region of Western Australia. [Carla Gottgens / Bloomberg news] 


Steelmaker to join hunt for overseas resources with Australian ore deal
BEIJING -Hebei Iron and Steel Group is in discussions with Atlas Iron Ltd for a stake in the Ridley magnetite project in Western Australia, sources familiar with the matter said on Monday.
"Hebei Steel does not have any overseas mining resources and is looking at the Ridley project in Australia to bolster its iron ore supplies," said the source.
The Ridley project is expected to yield 15 million tons of ore annually over the next 35 years.
"The Chinese steel company had earlier been in talks with Australian iron ore miner Aurox Resources for a stake. But unfortunately a deal did not materialize. Hebei is now showing interest in the Ridley project as Atlas and Aurox are being merged," the source said.
Atlas announced in March that it was buying Aurox to expand its port capacity and iron ore resources in Western Australia. The expected merger will create a company with a combined annual output of 26 million tons of iron ore by 2014.
Atlas, which plans to boost output fivefold this year, is also in talks with three groups from Asia and the Middle East for the Ridley stake, Bloomberg reported on June 24.
"There's a group we're talking to from Japan," Chief Executive Officer David Flanagan told reporters at Atlas Iron's mining site near the Pilbara district's Port Hedland in Western Australia. "There's a consortium from Saudi Arabia and India and some groups from China."
Atlas would prefer to divest about 75 percent of the Ridley stake and may also consider selling the entire 100 percent for the right price, he said.
Related readings:


 Wuhan Iron inks $800m coal deal with Riversdale


 Hebei Iron eyes funds to finance takeover


 BHP Billiton may renew iron-ore price push


 Steel price down despite iron ore price hike

Chinese companies have been interested in purchasing iron ore resources to secure raw material supplies and reduce dependence on the three big miners - Vale, BHP Billiton and Rio Tinto.
China, the world's largest iron ore consumer, increased ore imports by 42 percent to a record 628 million tons in 2009.
Hebei Steel had started to look for overseas resources earlier this year and was targeting an iron ore project in Brazil, according to earlier media reports.
Atlas is already producing 6 million tons of iron ore every year from the Pardoo mine and is developing other iron ore resources in Pilbara. The company expects its annual output to reach 12 million tons by 2012.
The Australian company said in a statement that it would secure an additional ore output of 10 million to 12 million tons after its merger with Aurox is completed.
Aurox owns the 456 million ton Balla Balla magnetite deposit in Western Australia. The company has struggled to get financing for the Balla Balla project which was scheduled to start producing 3 million tons of iron ore by this month. It had talked with some Chinese companies, including Hebei Steel, on a possible stake purchase, but could not clinch an agreement.
Other Chinese steelmakers are also investing heavily in overseas iron ore resources. Baosteel purchased a 19.99 percent stake in Australian coal miner and iron ore explorer Aquila last year.
Wuhan Steel plans to be self-sufficient in iron ore supplies in three to five years, after making several acquisitions in Australia, Brazil and West Africa recently.