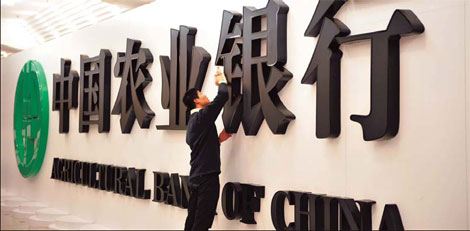 An employee cleans a sign at an Agricultural Bank of China branch in Beijing. The lender is planning a dual listing of shares in Hong Kong and Shanghai. [Li Xiangkai / For China Daily]


Lender to start subscriptions for Shanghai public float from July 1
BEIJING - Agricultural Bank of China (ABC), battling a market slump ahead of its mega float, signed a strategic alliance with Standard Chartered Bank on Thursday to explore joint business opportunities.
The deal came as ABC, the country's third largest lender by assets, is set to launch a roadshow for the Shanghai portion of its initial public offering, which is expected to raise nearly 150 billion yuan from the Shanghai and Hong Kong bourses.
Sources with knowledge of the matter indicated that Standard Chartered Bank may become a cornerstone investor in the Hong Kong tranche of ABC's dual listing, which is slated for July 16.
"Standard Chartered may buy up to 1 billion H shares of ABC's offering with a lock-up period of three to six months," the source told China Daily on condition of anonymity, adding that there will be no discount on the investment's offering price from the market price to be fixed after the roadshow.
Both the banks declined to officially comment on the possible investment, but sources indicated that a further announcement about the investment is likely to be made later this month or in early July.
As the only unlisted State-run commercial lender, ABC has been in the limelight for the past few months, as a successful listing of the Beijing-based lender will bring the country closer to completing the decade-long overhaul of State banks.
ABC is different from its other State-run peers like the Industrial and Commercial Bank of China, China Construction Bank and Bank of China, all of whom roped foreign financial institutions as strategic investors ahead of their IPOs in 2006 and 2007. The agriculture and farmer-focused ABC has not roped in any foreign partners as strategic investors.
The only strategic investor that ABC has is the National Social Security Fund, which acquired a 3.7 percent stake in the lender for around 15 billion yuan.
The wariness in selecting an overseas strategic investor did not stop ABC from seeking cooperation with foreign financial institutions. Before establishing the strategic partnership with Standard Chartered, the Chinese lender signed a similar strategic alliance with the Netherlands-based Rabobank earlier this month.
"The partnership signifies a new charter in the cooperation of ABC and Standard Chartered we will be able to mutually benefit from the complementary advantages of the two organizations," ABC Chairman Xiang Junbo said at the signing ceremony.
The emerging market-focused Standard Chartered Bank said the two banks will work together to tap the increasingly strong intra-Asia and Asia-Africa trade corridors and Hong Kong has been identified as a potential pilot region for the cooperation journey.
ABC's share offering has drawn great interest from overseas investors, including Singapore's state investment fund Temasek and several sovereign funds from the Middle East, even though the recent weak market sentiment has cast a shadow on the float.
ABC started pre-marketing its IPO to potential Chinese investors on Thursday and will begin taking subscriptions for its Shanghai portion on July 1. Up to 40 percent of the offering's Shanghai portion, including the greenshoe option would be placed with strategic investors, the bank said in a statement on Wednesday.
The bank said in an earlier prospectus that it planned to sell up to 56.3 billion shares, accounting for nearly 17 percent of its total shares, in a dual listing in Shanghai and Hong Kong. If the overallotment options in the two cities are excluded, it will issue 47.6 billion new shares, or 15 percent of its enlarged capital base.