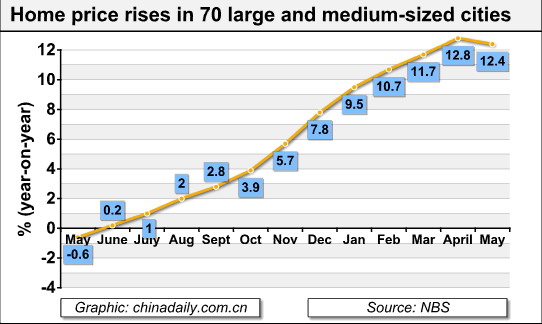 BEIJING: Home prices in 70 large and medium-sized Chinese cities rose by 12.4 percent year-on-year in May, the National Bureau of Statistics (NBS) said in a statement Thursday.
Related readings:


 Luxury home prices down, thanks to new regulations


 Tough rules set to drop home prices 30 percent


 Evergrande leads in cutting property prices


 City's home prices climb to 12-yr high
The growth rate was 0.4 percentage points lower than that of April, as property sales in first-tier cities, including, Beijing, Shanghai and Shenzhen, contracted following a string of government measures to rein in price rises.
Second-hand homes prices posted a year-on-year increase of 9.2 percent in May, but fell 0.4 percent from April, said the NBS in the statement.
New home prices rose 15.1 percent year-on-year, down 0.3 percentage points from April.
In May, floor space sold stood at 67.77 million square meters, a decrease of 12.74 million square meters from April.
Floor space sold in the first five months climbed 22.5 percent from a year earlier to 302 million square meters. Growth in the first five months was down 10.3 percentage points compared with the January-April period.
In a bid to curb soaring prices, the government has tightened scrutiny of developers' financing, curbed loans for third-home purchase, raised minimum mortgage rates and tightened down-payment requirements for second-home purchases.
As of May 30, new home sales in Beijing were down 70 percent to 3,357 units from April, according to data released by bjfdc.gov.cn.
Property transactions in Shanghai slumped around 70 percent month-on-month to 2,550 units in May, and Shenzhen's property developers sold a total of 109,200 square meters in May, down 62 percent from April, according to a report in the Shanghai Securities News on June 1.
The NBS data showed property developers borrowed 555 billion yuan (81.26 billion U.S. dollars) from domestic lenders in the first five months, a rise of 43.6 percent from a year earlier.
Nationwide, banks extended 374.4 billion yuan of loans to individual home buyers from January to April, up 88.8 percent year-on-year.
The nation's property developers invested 398.5 billion yuan in May, bringing the combined five-month investment to 1.39 trillion yuan, up 38.2 percent year-on-year.