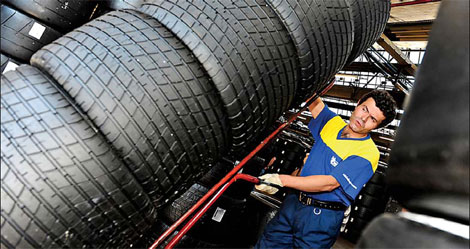 Tires ready for shipment at the Michelin plant in Clermont Ferrand, France. The price increases of raw materials such as rubber last year will push up costs for Michelin by around 700 million euros ($858 million) this year. [Nicolas Thierry / for China Daily] 


French tire company charts plan to relocate factory in Shenyang
Rio de Janeiro - French tire maker Michelin is awaiting government approval for a big investment in China involving the relocation of its Shenyang factory for capacity expansion, a top company official said on Wednesday.
"We have to relocate the Shenyang factory for a really big capacity expansion in both truck and bus tires as well as passenger car tires, considering the growing demand in China's automobile market," said Michel Rollier, managing general partner of Michelin.
"The project will be Michelin's biggest," he said. The new China factory will be one of Michelin's three important global projects in the next two years, Rollier told China Daily, with the other two plants in Brazil and India.
Rollier, however, refused to disclose further details about the new plant, said the project is still "awaiting final approval from the government".
Sources at Michelin's existing Shenyang plant told China Daily that the total investment for the new plant would be around $1.5 billion. The expanded capacity will add 1 million units of truck and bus tires to its current 800,000-unit annual production, as well more than double its capacity of passenger car tires to 10 million units per year from 2.2 million units. The project will also include the retreading of 295,000 truck and bus tires every year.
Related readings:


 Michelin puts emphasis on 'green' technology


 Tire makers set sights on pricey wheel market


 China tire demand to triple global growth


 Tire makers take it on the chin

Michelin's is also investing $1 billion for a new plant in Brazil to produce 10 million passenger car tires annually by 2012.
According to Michelin's 2009 financial report, China was the only region that showed demand growth for tires last year, thanks to robust automobile sales.
China's original equipment tire market grew 65 percent last year, and for the first time surpassed the United States to be the leader. The local replacement tire market increased 16.9 percent year-on-year in 2009 and was also the only growing market in the world.
The dwindling market in the Western countries amid the financial crisis and rising pressure from raw material cost hikes have propelled most of the companies to scout for growth opportunities in emerging markets like China.
Rollier said the price increases of raw materials like rubber last year will push up costs for Michelin by around 700 million euros ($858 million) this year.
US tire maker Goodyear had invested $500 million in 2008 to relocate its factory in Dalian, Liaoning province, for a capacity expansion. Michelin has so far invested $450 million in China since it set up an office in Beijing in 1989.