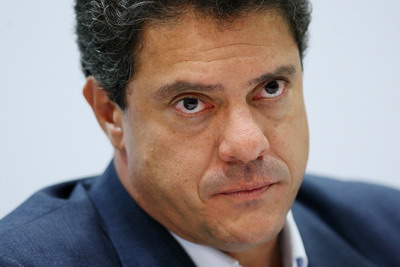 Roger Agnelli, president and chief executive of Vale. [Adriano Machado / Bloomberg News]


Mills in a pickle due to rising costs and weak steel prices as Brazilian mining giant vows 35% increase
SHANGHAI - Brazilian mining giant Vale SA, a producer of iron ore, said ore prices for the third quarter would rise according to the average market price over the previous quarter.
"The second quarter price (that Vale has signed with Chinese steel mills) is much lower than the spot market price, and the contract price in the third quarter will move up based on the average market price in March-May period," Jose Carlos Martins, Vale's executive director of iron ore, told reporters on Tuesday.
The talks on June prices with Chinese customers have started, but not concluded yet, he said.
"We will follow a formula, which is based on the average market price over the previous quarter, no matter whether prices go up or down in the future," said Roger Agnelli, president and chief executive of Vale. Both Martins and Agnelli declined to give specifics on the price hike.
Earlier reports said Vale would increase iron ore prices by 35 percent on average, starting July 1, calculated by index prices.
Agnelli told reporters that Vale is not limited to using one index to set quarterly iron ore prices. "We are using indexes that are accepted by clients and reflect the market," he said.
Currently, Platts, the Metal Bulletin and the Steel Index are publishing iron ore indexes.
Platts calculated the new ore price with 62 percent ore content touching $158.8 per ton free on board (FOB) for the third quarter, based on the average China spot market price between the March-May period.
"That is a 33 percent increase compared with $119.1 per ton FOB that Vale offered us in the second quarter," said an executive at a private steel mill based in Hebei province.
Chinese steel mills have been complaining about the difficult situation driven by the weakened steel prices and the rising raw material costs imposed by the top three global miners, Vale, BHP Billiton and Rio Tinto.
Steelmakers have had to cut product prices for June after the government came out with policies to cool down the realty sector.
"Iron ore prices are being set by the market, not fixed by miners," said Agnelli. "The market is formed by buyers and sellers. Vale is reflecting what happens today in the market."
Martins said Vale expects to ship about 140 million metric tons of the material to China this year, similar to shipments last year.
Market share in China may drop this year as it expands shipments to other countries as the world economy recovers.
"There is a lot of competition between the volume we sell to China and the volume we sell to other markets," he said.
Iron ore imports by China rose 42 percent year-on-year in 2009 to a record 628 million tons.