BEIJING - Anshan Iron and Steel Group (Ansteel) has received approval from the State-owned Asset Supervision and Administration Commission to bring Pangang Group under its fold, a source familiar with the matter said on Monday.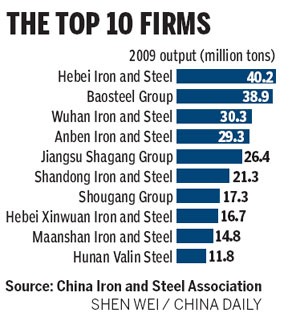 Angang Steel Co Ltd, the listed unit of Ansteel, is expected to make an official statement in this regard on Tuesday, said Fu Jihui, board secretary of Angang Steel.
Meanwhile, Angang Steel shares were suspended from trading in Hong Kong and Shenzhen on Monday and are expected to resume trading after the announcement.
The announcement will not have any details of the merger, said Fu, adding that the consolidation will not affect the listed entities for now.
Subsequent to the merger, Anben Iron & Steel Group will become the third largest steelmaker in China after Hebei Iron and Steel Group and Baosteel Group. Anben was created through a merger of Ansteel and Benxi Iron and Steel last year. But the merger process is yet to be completed.
Hebei Steel produced 40.2 million tons of crude steel last year, followed by Baosteel's 38.9 million tons and Wuhan Steel's 30.3 million tons. Anben was in the fourth slot with a total output of 29.3 million tons last year.
If one were to include Pangang's 7 million tons output, the new group would easily surpass Wuhan Steel to become the third largest steelmaker.
"The merger will not only enhance Ansteel's position in the steel industry, but also be beneficial for both companies," said Li Xinchuang, president of China Metallurgical Industry Planning & Research Institute.
Pangang has technical advantage in railway steel products while Ansteel mainly produces high value added products such as flat sheets. The products of both companies would fill the gaps for each other, he said.
Pangang is located in western China and Ansteel in northern China. A consolidation of the two firms would help Ansteel expand its presence in the western region, Li said.
The consolidation of big steelmakers is in line with the government plan for the fragmented steel sector.
The government had come out with a stimulus package for the steel industry in January 2009, and encouraged big mills to merge with rivals to create cohesive steel groups.
Local media reported Benxi Iron and Steel is planning to merge with Beitai Iron and Steel Group. Beitai Steel has an annual output of 10 million tons. If the deal is finalized, the new Anben Group could become China's largest steel maker with an annual capacity of 56 million tons.