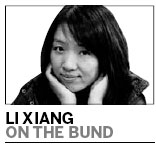 Analysts say the Chinese stock market is in a wait-and-see mode - when investors are uncertain about the economy's general direction, which may reflect uncertainty among policymakers.
This should explain the domestic A-share market's plunge to a one-year low on Monday, and fears that the Shanghai Composite Index may fall still lower before an upward trend can be assured.
For the first time, Beijing has voiced concerns about over-tightening after using a club to beat down the country's soaring property prices. Premier Wen Jiabao recently warned of the risk of negative policy consequences while admitting that the government is faced by "many dilemmas" under "extremely complex" conditions.
Wen's comments seemed to indicate that the government may slow further tightening and take some time to gauge the effectiveness of its new property measures.
But what investors need is short and clear-cut answers. They have no patience with any ambiguity. If they are not sure it's time to buy and hold, they just sell and move on to other investments.
Now all the eyes are on China's next policy steps to deal with inflationary pressures and the spillover effect of its new property policy.
Premier Wen was forthright stating that the current situation is complicated and it is difficult for the government to effectively contain skyrocketing property prices without the overall economy suffering. Yet it is still too early to tell exactly how that can be achieved.
The latest figures from the National Bureau of Statistics showed that property prices in Beijing grew 14.7 percent in April year-on-year. Housing prices in other large cities such as Shanghai and Guangzhou also remain high.
Related readings:


 China's stock drop not caused by futures, Wang says


 China takes stock as it prepares for Cancun


 Stock suspension indicates shipmaker's assests injection


 Wu: No govt action on stock market fall

Bringing down housing prices seems to have become a political task of local governments, some of which are competing with each other over rigidity. The Shanghai government, for example, is reportedly considering levying a tax on property ownership while Beijing has in effect ordered that each household is entitled to own only one housing unit.
But measures such as tighter mortgage policies and down payment requirements are unlikely to deter cash-loaded speculators who mostly pay the full price for the properties that they buy. It is the ordinary households that rely on bank loans for their home ownership plans.
Apparently, some new municipal policies can only restrain and slow down normal transactions in the property market with buyers delaying their purchases, to be followed by a spreading credit crisis among middle-class households. Analysts are afraid that such harsh policies could cause the market to grind to a halt, generating few sales and attracting little investment.
If the real estate industry continues to be a pillar of China's economy over the next 10 years, one can be almost certain that the current policies need some fine-tuning very soon.
In fact, some industry watchers already anticipate that the government may reverse the property crackdown in the fourth quarter on concern that it may put the 8 percent GDP growth target at risk.
So in the days ahead, investors can basically do nothing except to wait and see what policy adjustments will come next - to assure them of the economy's continuing growth, neither overheating nor over-cooling.
Indeed, for the next 10 to 20 years, hundreds of millions of people will move from rural areas into the cities. The real estate industry is playing an irreplaceable role as one of the most important engines driving China's economic growth. At both the central and municipal levels, officials cannot afford to just shift gears from time to time without first designing a better large-scale, long-term solution.