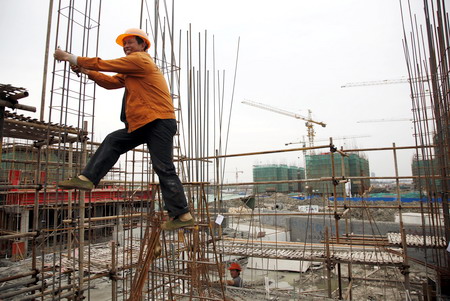 A worker at a construction site for a residential development in Shanghai. [Qilai Shen / Bloomberg]
BEIJING - The recent tightening of China's real estate policies is unlikely to have a negative impact on the nation's gross domestic product (GDP) growth this year, being offset by accelerating urbanization and strong growth in fixed asset investment, experts said.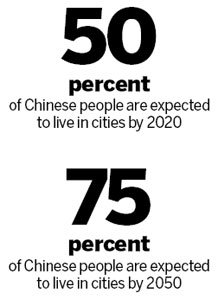 Plummeting property and land sales after the launch of the country's most rigorous real estate policies in the past decade had triggered investors' anxiety over their potential impact on other sectors.
The benchmark Shanghai Composite Index suffered its biggest loss in a year on Monday, with more than 200 stocks falling to their daily trading limit of 10 percent.
"Though property developers may postpone or halt construction due to the government's real estate policies, we believe that China's urbanization can make up for these side effects on the country's economy, and the nation can still maintain 10 percent GDP growth this year," said Wang Tao, head of UBS Securities' China Economic Research.
According to a recent report by China Mayors' Association, around 50 percent of Chinese people will live in cities by 2020, and this figure will grow to 75 percent by 2050. The country's urbanization rate stood at 46.59 percent by the end of 2009.
Related readings:


 China's urbanization rate to reach 50% by 2020


 Urbanization: key urban development planning issues


 China's urbanization speed to peak about 2013

 NDRC: Urbanization coverage to exceed 50%

Li Bingren, chief economist of the Ministry of Housing and Urban-Rural Development, said he expects China's urban infrastructure fixed-asset investment to top 1 trillion yuan ($146 billion) in 2010.
The country's rapid urbanization will result in the accelerated construction of urban public facilities involving a total investment of as much as 7 trillion yuan during the 12th Five-Year Plan (2011-15), 21st Century Business Herald cited Li as saying.
Sun Mingchu, chief economist of Nomura China, said investors needn't worry about the impact of property policies on China's real GDP growth.
"Even though property investment has fallen, we still expect China's fixed asset investment to maintain its 28 percent growth, along with a strong demand for raw materials," said Sun.
As of April 30, the subsequent investment scale, or the capital needed to finish all fixed asset investment projects currently under construction, has soared to 27 trillion yuan, up 27.8 percent year-on-year, according to Nomura statistics. The amount of capital is equal to 80 percent of China's GDP last year. And during the first four months of this year, the investment planned to start new projects has jumped 31.3 percent over the same period last year.