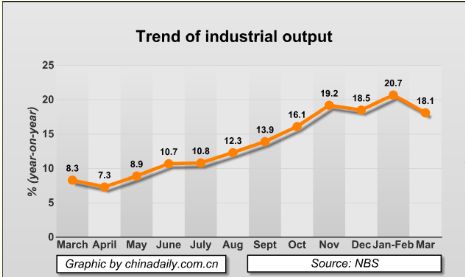 BEIJING - China's industrial output increased 19.6 percent year-on-year in the first quarter of 2010, the National Bureau of Statistics (NBS) said Thursday.
The figure is a 14.5 percentage points rise from the same period last year. In March, the figure rose 18.1 percent year-on-year.
Related readings:


 China's industrial output grows 19.6% in Q1


 Industrial output climbs for sixth month in a row


 Jan-Feb industrial output grows 20.7%


 Hi-tech export boosts industrial output
China's industrial production recovered rapidly since the first quarter of last year thanks to the government stimulus package and national guidelines issued to support the development of 10 major industries.
The industrial output of State-owned enterprises and the State-owned businesses was up 20 percent while that for foreign-invested businesses was up 19 percent, the NBS said.
Industry profits also continue to improve. Profits of enterprises with annual sales revenue of over five million yuan ($732,493.41) grew 120 percent in the first two months of the year to hit 486.7 billion yuan.