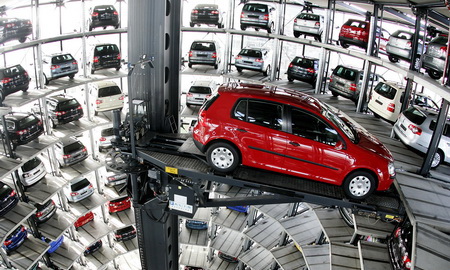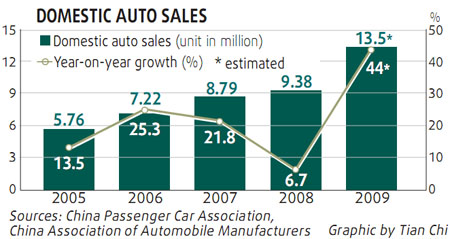 China's passenger vehicle market ended last year with a 59 percent year-on-year sales increase to surpass the United States as the world's largest auto market for the first year, thanks to the central government's stimulus package.
The domestic sales of cars, sports-utility vehicles (SUV), minivans and multi-purpose vehicles (MPV) hit 10.26 million units last year, surging from 6.4 million units in 2008, said Rao Da, secretary-general of the China Passenger Car Association on Friday.
The growth is also the highest in the country's auto history, with total automobile sales expected to surge 44 percent year-on-year to 13.5 million units in 2009.
Statistics from the US consulting institution Center for Automotive Research showed that new car sales in the US last year plunged 21 percent year-on-year to a 27-year low of 10.43 million units, more than 3 million behind China.
The China Association of Automobile Manufacturers (CAAM) is expected to release detailed market figures of the country's automobile industry on Monday.
The spike in vehicle sales was largely boosted by the government's stimulus policies for lifting market demand, which included tax cuts on small-displacement automobiles, subsidies for trade-ins and subsidies for farmers to buy vehicles.
A low comparative base in 2008, when car sales growth slowed to 6.7 percent with 9.38 million vehicles sold, also helped boost 2009 figures.
To further support the world's fastest growing auto market, the Chinese government said last month it will extend stimulus measures in the automobile industry for one more year.
The purchase tax for smaller cars will be lifted from the current 5 percent to 7.5 percent of the total vehicle price. The government also decided to raise the subsidy for trade-in cars from between 3,000 and 6,000 yuan ($440 to $880) to between 5,000 yuan and 18,000 yuan per vehicle.
The government's continued support for the industry promises to fuel its rise for the coming years.
Automobile industry consulting firm Sinotrust predicted that vehicle sales will reach 15.13 million units this year, with a year-on-year growth rate of 15.2 percent.
According to the Ministry of Public Security, until the end of last year, almost 200 million Chinese people are able to drive a vehicle, making up about 15 percent of the country's 1.3 billion population.
"Natural demand will continue to expand in the next few years," said Lang Xuehong, chief auto industry analyst at Sinotrust.
Chinese automakers launched a record 221 new passenger vehicle models last year, with a majority of them upgraded models and less than half being new ones, according to the latest statistics from the CAAM.
Chinese automakers are expected to launch about 100 new models this year.
The brisk sales have also brought challenges to China's appeal for a green society.
However, a number of analysts said the sales may also speed up automakers' efforts to develop next-generation energy-efficient and emission-free vehicles.
Related readings:


 China's brisk auto market in 2009


 Auto market maintains blistering pace


 China to be largest auto market in the world


 Passenger vehicle sales peak in Oct

Moreover, "the revised policy for this year, with tripled subsidies to encourage the replacement of outdated vehicles with high emissions and unstable driving performance, will contribute to an environmentally friendly society in which the automobile industry has a heavy responsibility," said Yale Zhang, director of the Greater China Vehicle Forecasts for US auto industry consultancy CSM Worldwide.
Still, Chinese cities may face worsening traffic as the car boom puts an increasing number of people behind the wheel, with a number of local governments already expressing concern about the rising number of cars.
Zhang Gong, director of Beijing's municipal commission of development, said the capital will enter the "automobile age" when every 100 families own 66.1 cars.
The capital is rated in a Sohu.com survey of more than 5,000 Web users as the most crowded Chinese city in November.